Day Trip, Entree, Picnic, Recipes By Activity, Recipes By Type, Uncategorized
It's been a nice quiet holiday season, but things are starting to ramp up again. As we get busier, though, we don't want to lose our focus on getting outside, because it is still one of the most important aspects of our lives.
Word To The Wise
Line your camp chair with a cozy blanket while sitting by the fire. It will insulate your back from the cold and be a cute addition to the camp decor.
Popular
Recipes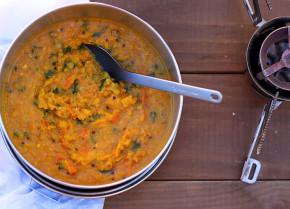 Red Lentil Sweet Potato Dal. Dehydrated for backpacking.
Foolproof and hearty Dutch Oven Stuffed Peppers.