Car Camping, Entree, Uncategorized
"French Dish" is a very simple but delicious car camping recipe that is family-friendly and quick to put together. Make this on a trip where you have lots of fun activities planned.
Word To The Wise
Dressing for the Outdoors
Cotton holds in moisture while wool and synthetic clothing wick it away. Avoid wearing cotton (even your socks!) while doing outdoor activities to guard against chafing and even hypothermia.
Popular
Recipes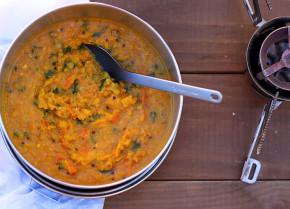 Red Lentil Sweet Potato Dal. Dehydrated for backpacking.
Foolproof and hearty Dutch Oven Stuffed Peppers.