We love to teach different cooking techniques for all different types of outdoor adventure. One of our most adventurous occasions happened in December when we got to work with Subaru and some tough mountain bikers deep in the heart of Death Valley National Park.
Word To The Wise
Line your camp chair with a cozy blanket while sitting by the fire. It will insulate your back from the cold and be a cute addition to the camp decor.
Popular
Recipes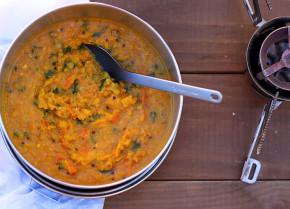 Red Lentil Sweet Potato Dal. Dehydrated for backpacking.
Foolproof and hearty Dutch Oven Stuffed Peppers.