Bundt cakes belong at picnics. They're not covered in delicate frosting, so they won't get destroyed in transport. And more importantly, they're so pretty! They add just the right amount of fancy to a picnic, without being fussy.
My bundt pan used to live in the garage because we didn't have enough storage in our old kitchen. We moved in March and our new kitchen has lots of storage, so my bundt pan now has a home in the kitchen, where it belongs. Now that I see it all the time, I've made more bundt cakes than ever and have become a little obsessed with them. I love them because there's crust in every slice of cake.
This Almond Poppy Seed Bundt Cake recipe is super easy to throw together. It has a strong almond flavor, so if you don't like that flavor, you could omit the almond extract and add some lemon zest instead. If you're worried about transporting the cake with the glaze on it, you can use less glaze or just leave it off entirely. Even Emily, the self-proclaimed cake-hater loves this cake.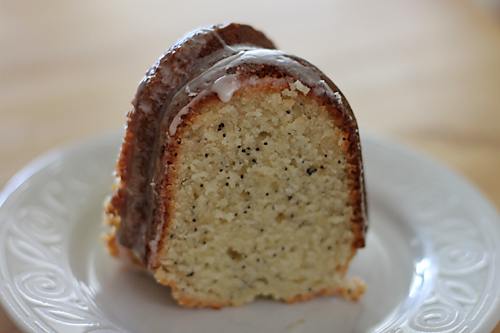 Almond Poppy Seed Bundt Cake
Prep Time / Cook Time
/
Activity Guide
Car Camping, Picnic
Ingredients
3 cups all-purpose flour
2 1/2 cups sugar
1 1/2 teaspoons baking powder
1 1/2 teaspoons salt
1/4 cup poppy seeds
3 eggs
1 1/2 cups milk
1 1/2 cups oil
1 tablespoon vanilla extract
1 tablespoon almond extract
1 1/2 cups powdered sugar
2 tablespoons milk
1/4 teaspoon almond extract
pinch of salt
Tools
Large bowl
Measuring cups
Measuring spoons
Medium bowl
Mixing spoon
Rubber spatula
Small bowl
Whisk
10 or 12-cup Bundt Pan
Method
Preheat oven to 350 ° F. Grease and flour a bundt pan.
In a medium mixing bowl, combine flour, sugar, baking powder, salt and poppy seeds.
In a large mixing bowl combine eggs, milk, oil, and extracts. Add the dry ingredients to the egg mixture and stir to combine well.
Pour batter into bundt pan and bake for 50-60 minutes, or until a toothpick inserted in the center of the cake comes out clean.
Let the cake cool for 15-20 minutes and then invert it on a plate.
For the Glaze
Whisk together powdered sugar, milk, almond extract, and salt.
Drizzle glaze over the top of the cake and let it cool completely.