I am deep in the midst of wedding planning right now. Just about every aspect is DIY, including the food (we know, we're crazy), but we're ready! At least, we think we are. The menu is truly "dirty gourmet," and I'll never admit that I hope this strange drought holds just a few more weeks. I'd love it to be a joy for whoever gets stuck manning the grill (probably us).
We'll be cooking Wes' famous, made-from-scratch, perfected-over-years-of-practice sausages. These will be paired with some sort of delicious potatoes, and this Apple Fennel Mustard Slaw. It is simple, hearty, bright, crunchy, tangy, and a little fancy. We can make it ahead of time with no worries that it will go limp before the party. It will play the role of both a salad and a topping for the sausages.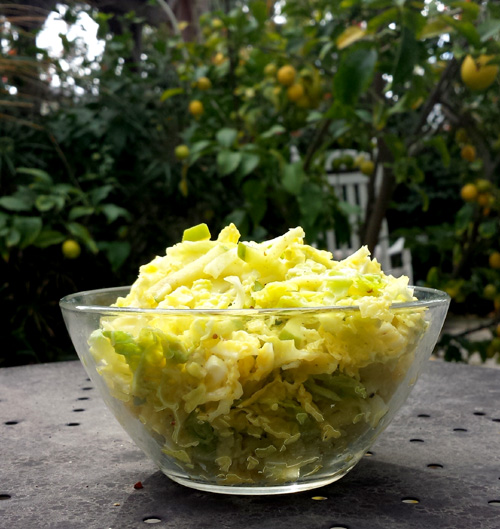 I'm still looking for one more side dish to complete the meal, if you've got any ideas. Safe enough that everyone will like it, probably a vegetable, and bright-colored though seasonal. It's not an easy task!
We'll keep you posted on more recipes and outdoor party ideas that we gather throughout the process.
Adapted from Beer Braised Brats with Apple Mustard Slaw on Honestlyyum.com.
Apple Fennel Mustard Slaw
Prep Time / Cook Time
/
Activity Guide
Car Camping, Picnic
Ingredients
1 head savoy cabbage, shredded
1-2 bulbs fennel, sliced thin
2 green apples, matchsticked
1/4 cup olive oil
1/4 cup cider vinegar
juice of one lemon
2 tablespoons whole grain mustard
salt and pepper
Tools
Cutting board
Knife
Large bowl
Small bowl
Whisk or fork
Food processor (optional)
Method
In a small bowl, mix the cider vinegar and half the lemon juice together. Add mustard, and then whisk in the olive oil until well combined. Set aside.
Mix the cabbage, apples, and fennel in a large bowl. Rub with salt, and sprinkle with the other half of the lemon juice.
Dress the vegetables and mix well to coat. This can be done up to 24 hours in advance.