Sometimes in Southern California it's hard to tell that Fall has arrived, but when it's apple picking time, I'm convinced. My dad went to pick apples this year at a friend's orchard and he brought me four huge bags of apples. They were really sweet and crisp, but mostly Red Delicious, which are not the best apples for baking. Also, they were full of worm holes, so they weren't very pretty. Because of that, my usual pies were out. And while I love these Maple Olive Oil Apple Chips, I wanted to try something new. I ended up making a couple of batches of this Apple Spice Fruit Leather and was so impressed with the results. I didn't think I could get a nice, soft fruit leather like I buy at the grocery store without a dehydrator, but I ended up with just that. If you have a high power blender like a Vitamix, don't bother peeling the apples. You'll get the extra fiber, and the color from the peels is so pretty. This is a great guilt-free snack to take on a hike, and perfect for your kiddos. Enjoy!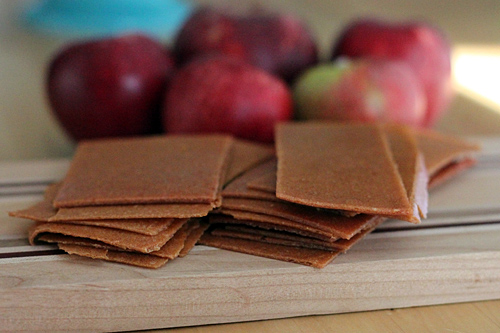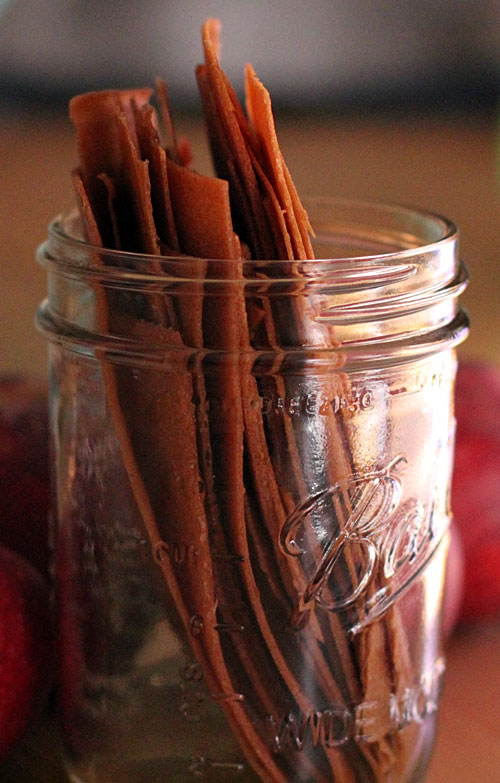 Apple Spice Fruit Leather
Prep Time / Cook Time
/
Activity Guide
Backpacking, Bike Touring, Car Camping, Day Trip
Ingredients
8 cups chopped apples (if you have a high-powered blender, just leave them unpeeled)
1 cup spiced apple cider
1/2 teaspoon cinnamon
Tools
Cutting board
Food processor or blender
Large pot
Silicone baking mat or microwave-safe plastic wrap
Approx 12×17 inch baking sheet
Kitchen shears, knife, or pizza cutter
Method
Preheat the oven to 170° F. Line a baking sheet with a silicone mat or microwave-safe plastic wrap.
Combine the apples, apple cider, and cinnamon in a large pot. Bring to a boil, then reduce heat to low. Simmer until the apples are soft.
Puree the mixture in a blender and pour onto the prepared baking sheet. Gently shake the baking sheet to spread out the fruit puree.
Bake until the fruit is mostly dried out, but still a little sticky.
Cool completely and then cut into strips. Store in a tightly sealed container.