We haven't ventured out many places other than the park lately, but last week we took a little trip to the beach with our friends and their 2 year old. We hadn't taken our kids to the beach since they were about 9 months old, so now that they're almost a year and a half, it was a totally new experience. We dug around in the sand, built and destroyed sand castles, and dipped our feet in the water. Well, everyone but Ravi, my fearless boy. He ran straight for the water and was soaked within minutes. Asha stayed behind calling after him, so concerned that he was going to get swallowed up. Those two are so different.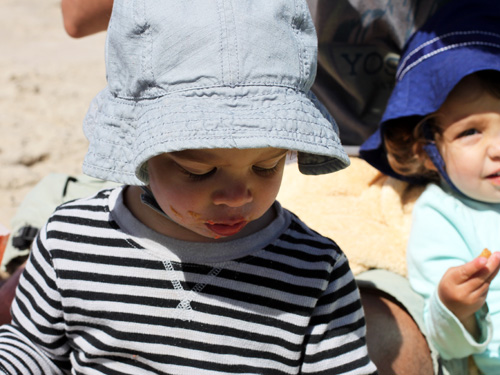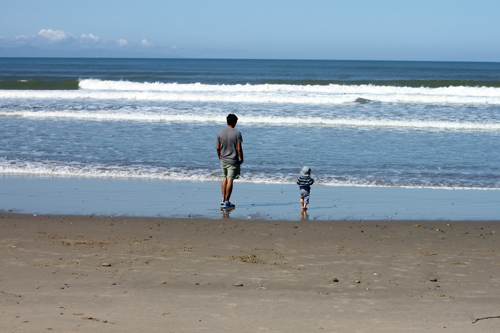 I didn't pack a full on picnic, but I made a couple of snacks to share: some Spicy Peanut Dip with cut up veggies (recipe to come), and these Apricot Crumb Bars. This recipe is adapted from a recipe for Apricot Bars in the King Arthur Flour Cookie Companion. The idea for using coconut oil in these was to make a vegan version that my husband would eat. Even though I'm disappointed more often than not, I'm an optimist and I keep trying to bake vegan versions of things. I've found that the few successes I've had with vegan baking are the recipes where I don't try to replace ingredients with fake vegan substitutes, but use real foods that happen to be vegan. To me, coconut oil fit the bill here, and it worked perfectly…as long as you like coconut. The crust is tender without being too crumbly to stay together, and the apricot filling is chewy and tart.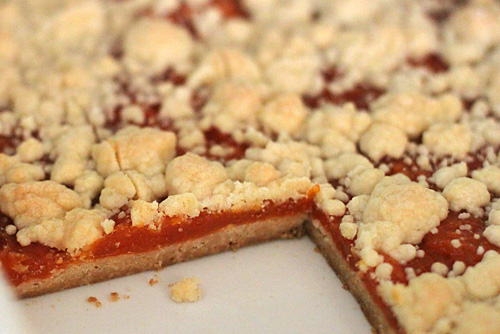 If you aren't into coconut but want to try these, substitute butter for the coconut oil. Another thing to note is you can usually find both Turkish and California dried apricots. California apricots seem to be more concentrated and tangy, while the Turkish ones are sweeter and mild. I bring it up just to make you aware of the difference, because I very much prefer the California variety. I think these bars wouldn't be as tangy as I like them to be with the Turkish kind.
Apricot Coconut Crumb Bars
Prep Time / Cook Time
/
Activity Guide
Car Camping, Picnic
Ingredients
12 ounces chopped dried apricots
1/2 cup sugar
1 1/2 cups water
2 1/4 cups all-purpose flour
1 1/4 cups powdered sugar
1 teaspoon salt
1 teaspoon baking powder
1 cup coconut oil
Tools
Cutting board
Knife
Large bowl
Medium pot
Whisk
9x13-inch or similar sized baking pan
Pastry blender (optional)
Food processor, blender, or immersion blender
Method
Preheat the oven to 350° F. Lightly grease a 9×13-inch baking pan.
In a medium pot, combine the apricots, sugar and water. Bring to a boil and then reduce the heat to a simmer. Cook the mixture until the apricots are softened and have absorbs most of the water. Cool slightly and puree in a food processor or blender.
Whisk together the flour, powdered sugar, salt and baking powder in a mixing bowl. Cut in the coconut oil using a pastry blender or your fingers, until the mixture is crumbly but holds together when squeezed. Alternately, you can use a food processor to make the crust and topping.
Set aside about 1 1/4 cups of the crumb mixture, and press the remaining into the baking sheet. You should push the crust evenly into the bottom of the baking sheet and a little bit up the sides. Bake the crust for 14-16 minutes and remove it from the oven.
While the crust is still warm, spread the filling over it. Sprinkle the remaining crumb mixture over the top of the apricot filling. Bake again for about 30 minutes, or until the topping is nicely browned. Cool completely and cut into squares.