Spring is finally here and in Southern California, it seems as though summer is getting a head start. This weekend, the sun was in full effect and the beach was flocked with colorful umbrellas and balloons dancing in the wind. Unfortunately, I was sick in bed with a cold and sinus infection. Given my state, a snowstorm would've been more appropriate – kind of like the one we camped in a few weeks ago.
Aimee and Emily have already shared parts of that trip with you in the last two posts. After Emily's Spicy Peanut Pasta and Aimee's Creamy Macaroni and Cheese, I made a Vegetable White Bean soup. It is an easy camping recipe that is hearty with a surprising depth of flavor despite the simple ingredients. Think of it as a fresh and light version of a winter soup, perfect for the temperamental spring weather.
After our feast and a wonderful campfire, we finally called it a night and crawled into our tents. I changed into my pajamas in record speed and snuggled into my fluffy down sleeping bag.
A couple of hours later, I woke up to an unfamiliar noise and my fiancé yelling out: "The tent is caving in!" I struggled out of my cocoon and frantically started pushing up on the tent to get the snow to fall off to the sides. A minute later, the tent was back to it's perky self and there we lay, fully awake, listening to wet snow already starting to accumulate on top of the tent. It didn't take long for to me to realize that my sleeping pad was completely deflated and that I had to pee. I tried to ignore both, but half an hour later, it was painfully obvious that neither problem was going to get resolved from the warmth of my sleeping bag. I committed. I was going to have to exit the tent into a full snowstorm. After layering up, I unzipped my tent door and got out, narrowly dodging a mini-avalanche threatening to fall into the tent.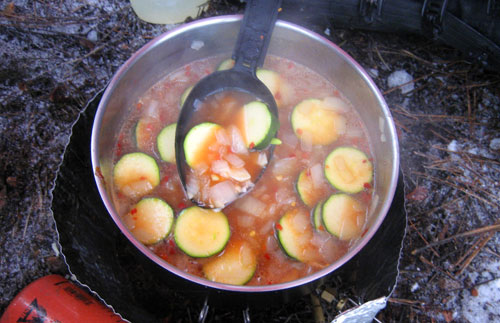 My headlamp beam revealed a good 8 inches of fresh snow on the ground and a steady fall of heavy wet snowflakes. I scanned for a good pee spot and took care of business. I only have three words to say about peeing in a snowstorm – butt – ass – cold. Literally. To regain feeling into the lower half of my body, I spent the next 20 minutes shoveling away all the snow around the tent. I was getting into a groove. The night was mine and I alone would face the storm! I made a nice path around the tent perimeter and found some gear that had gotten buried in snow. I then considered clearing a path to Aimee and Emily's tent 100 feet away. Deep in thought, I was interrupted by my fiancé announcing that my sleeping pad was re-inflated. The ambitious plan for the expressway to the neighbors was instantly dismissed and soon became part of my dreams as I fell into a deep sleep.
Arborio Rice and White Bean Vegetable Soup
Prep Time / Cook Time
/
Activity Guide
Bike Touring, Car Camping
Ingredients
1 small onion, chopped
1 small zucchini, chopped crosswise
1 carrot, chopped crosswise
2 garlic cloves, minced
1/2 cup arborio rice
1 can white beans (Canellini or Great Northern)
2 tablespoons tomato paste
1/4 teaspoon red chili flakes
3 1/2 cups water
1 to 2 bouillon cubes
1 tablespoon oil
salt and pepper, to taste
Tools
Cutting board
Knife
Medium pot
Mixing spoon
Stove
Method
Heat oil over medium high heat and add onions, garlic and carrots. Let vegetables soften, stirring occasionally for 3-5 minutes.
Add rice and chili flakes to vegetables. Stir ingredients and add water, bouillon and tomato paste. Start with one bouillon cube.
Reduce heat to medium and simmer until rice is almost done. Add zucchini and can of beans (including the bean water) to soup. Stir, mixing all ingredients evenly.
Adjust seasoning at this point with additional bouillon and/or salt and pepper.
Let soup simmer until zucchini and rice are cooked. Serve with bread and butter.