When I was 6 years old, my dad took me for an overnight backpacking trip to Mount San Gorgonio, in the San Bernardino Mountains. It's the highest peak in Southern California, at 11,503 feet. A couple of years ago, we hiked the same trail for Emily's birthday, and I was amazed that my dad had taken me there so young. It's a long trek to the top, and was challenging for all of us as adults.
My memory of that first trip is spotty, but when I think about what I do remember, it always makes me smile. I remember crying when a ranger came to where we were camped and told us to move farther away from a nearby pond or we would get a ticket. I remember making it to the top of the mountain and sitting next to the stone wind shelters, eating a sandwich. But mostly, I remember Jello.
My dad always brings what he calls a "secret weapon" when he's backpacking. A "secret weapon" is some sort of unexpected surprise that might come in handy or just make you happy on a backpacking trip. Once it was a big fur hat, sometimes it's a bar of chocolate, and often it's a flask of alcohol. This time it was Jello.
Before we went to bed that night, my dad brought out his "secret weapon". We made the Jello but instead of just waiting for it to thicken like normal, we sat in the tent and sipped the hot, sweet jello from a bottle. I wanted to finish it all, but he told me we had to save some for the morning. So, after warming our hands on the bottle, we left it tied up in a tree with the rest of our food for the night. When we woke up the next morning, like magic, the Jello was solid. For a six year old, it was magic. The best part was that we got to eat Jello for breakfast!
I suggested to Emily that she try the Jello trick on her recent Yosemite backpacking trip. I wasn't sure whether it was something that only a kid would like, or if it would be just as great as I remembered. She came back raving about it. Emily describes it as, "so much better than hot cocoa. Being gelatin, it felt thick when you drank it, which just made it seem like it was warming you more." So, even though it's just a box of jello, we decided this easy camping recipe was definitely worth sharing with you. Sometimes the simplest things make the best memories.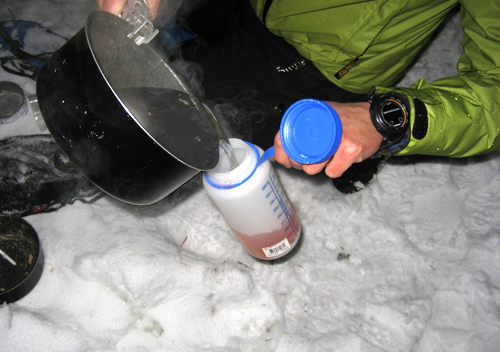 Backcountry Jello
Prep Time / Cook Time
/
Activity Guide
Backpacking, Bike Touring, Car Camping
Ingredients
1 6-ounce box of flavored gelatin
4 cups water
Tools
Medium pot
Stove
Nalgene or other heat-proof bottle
Method
Combine four cups of boiling water and the gelatin powder in a Nalgene bottle (use all boiling water so that you can drink it as a hot beverage). Screw on the lid and shake until the gelatin dissolves.
Drink half the Jello immediately. Save the remaining Jello for the following day. You might want to store the bottle on it's side so it's easier to get to in the morning. If you are camping in bear country, make sure you leave it outside somewhere away from your tent, hanging, or in a bear canister.