Ever since I moved away from my best friend in Florida to go west, we've talked about meeting up in a cool place halfway between us for an adventure. We've talked about Moab, City of Rocks, Montana, and the Tetons, but none of it ever happened. People started having babies and getting married, and we'd meet in Florida or California for those events instead. We'd see each other for maybe a day, usually surrounded by other loved ones at the same time. This summer, we finally did it! And this time, we decided to meet in Banff.
We started planning last winter. Everyone had grand ideas of the activities we should include in our week. Climbing in the Bugaboos, backpacking, peak bagging, and paddleboard camping in Banff National Park, roadtripping up to Jasper National Park on the Icefields Parkway, and hot springs of course! Planning as a group of 4 (our husbands got to come) ain't usually easy, because people aren't often on the same page. It was only hard for us because we were all into cramming in everything!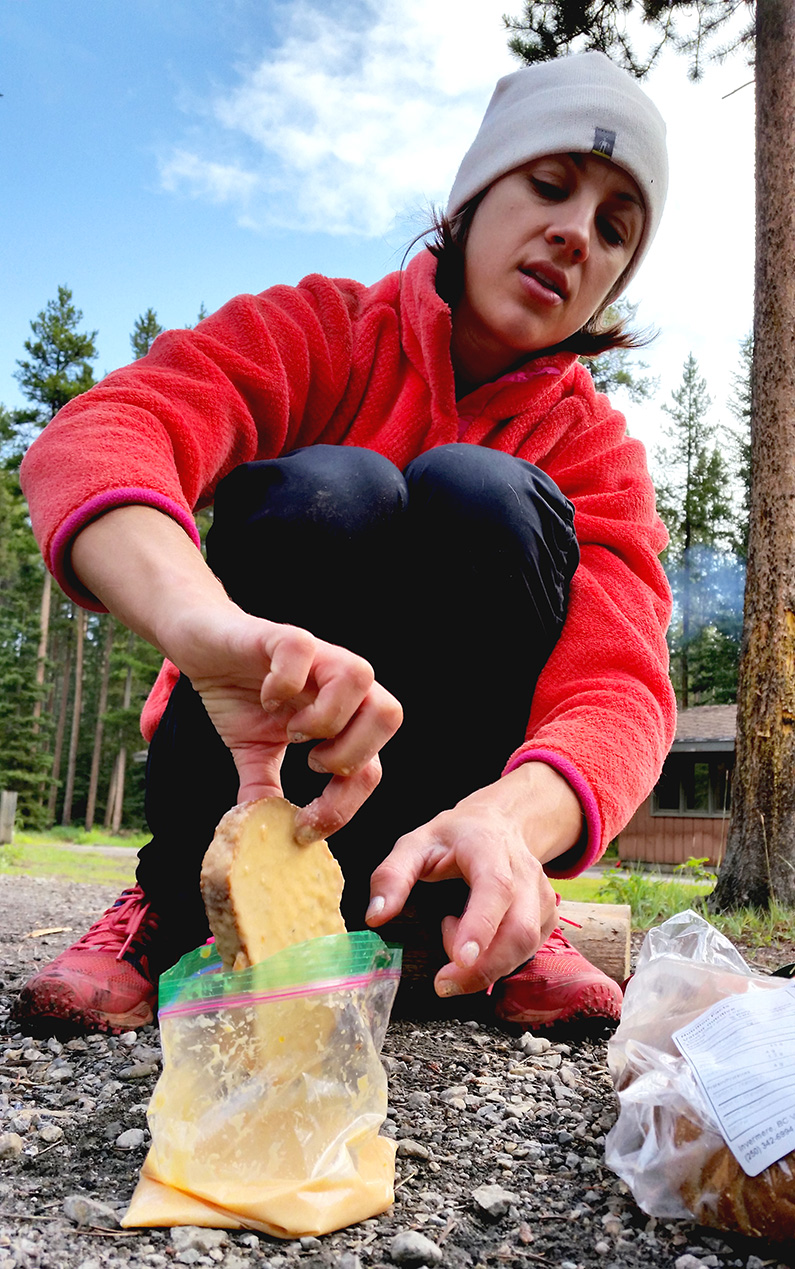 When the trip finally happened, we decided officially on "the no plan plan," which worked out very well. Though some of our activities were thwarted or cut short due to constant rainstorms or long drives, we did mostly everything on the list! Except see a moose. Still waiting for that one…
I was responsible for all the camping food for the trip, so I spent a month or so dehydrating things. Probably the best thing we ate was this Backpacking French Toast. I dehydrated my own eggs at home (here's how), and we simply dipped fresh Canadian bread in them, fried the bread up, and smothered it with local Canadian maple syrup. It was a perfect mix of lightweight, hearty, locally sourced, and rustic.
It was wonderful to finally get to spend a whole week with my Anne and Drew, especially in such an incredible place. It's rare to find people you get along with so easily that you can all truly go where the adventure is, but these people are those people for us. I can't wait to plan another adventure in another new amazing location. The world has a lot of them!
Backpacking French Toast
Yield
About 4 servings, or 8 toasts
Prep Time / Cook Time
/
Activity Guide
Backpacking
Ingredients
5 dehydrated powdered eggs
8 pieces of bread
3 tablespoons oil
4 pats butter
1/2 cup maple syrup (the good stuff, of course)
5 tablespoons, plus 5 teaspoons water
Tools
Skillet
Spatula
Stove with simmer control
Tongs
Zip top baggie
Method
Rehydrate eggs directly in zip-top baggie using 1 tablespoon + 1 teaspoon water per egg. Zip baggie closed and massage to fully coat powdered eggs in water. Let stand about 5 minutes, until evenly rehydrated. Add a little extra water if eggs look thick.
Add a little vanilla or cream if you'd like.
Heat 1 teaspoon of oil in a skillet over medium-high heat.
Dip a piece of toast into the zip-top baggie until evenly coated in the egg mixture.
Fry the toast in the skillet until eggs are cooked through and browned on both sides, about 3 minutes each side.
Top with butter and maple syrup while still hot.
Toss the eggie baggie (not into the woods).
*If you have an extra pot, store finished toasts in pot until all toasts are done. Cover with a bandana to keep warm. Otherwise, make these to order.