We went up to the San Gabriel Mountains a few weeks ago with our friend, Ryan, to have a day of recipe testing and food photography class. The results were delicious, and it shows from the photographs.
Maybe it's old school, but we have loved making cheese fondue for a while. We've made several different variations to one recipe, but it always includes mustard, garlic, beer or wine, and gruyere cheese. This is a recipe that can be made low and slow in a crock pot at home or dutch oven at camp. It can also be made rather quickly in a cast iron skillet for an appetizer or full-on meal.
This is a nice recipe for camping because it really is a one pot meal, with no need for any other dirty dishes. We do basically nothing to the dippers, besides chopping and blanching the vegetables. The dishes they sit in are very easy to clean in the end.
Another bonus is that a cast iron skillet retains heat beautifully, so the fondue actually stays warm for longer than you might think.
Beer Cheese fondue is a fun meal that will bring your whole group together to eat. There are a lot of possibilities for a second round meal with the leftovers as well. We've done some awesome grilled cheese sandwiches, but mac 'n cheese or a broccoli cheese soup would be super easy as well.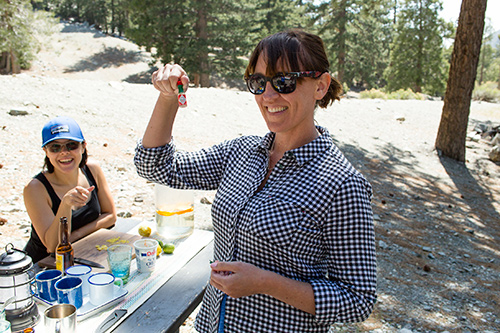 Thank you Ryan for the beautiful photos! We learned a lot about food styling and outdoor lighting in one little afternoon in the mountains. Here are some things we learned:
Try to even out harsh mottled light by holding a scrim or light diffuser over the subject. We're thinking a tent may work for this in a backcountry situation, but haven't tested that out yet.
Ryan swears by his apple box as a multipurpose tool to help stand over your subject.
The wilderness is full of beautiful background props, so use what you can find (while practicing Leave No Trace techniques, of course), but Ryan brought a few boards with him that were beautiful and natural for times when we couldn't find something big or flat enough.
Slow down, focus, and take your time styling the food on the table. It will make a difference.
All photos by the talented Ryan Robert Miller.
Beer Cheese Fondue
Prep Time / Cook Time
/
Activity Guide
Car Camping
Ingredients
1/2 pound sharp cheddar cheese, shredded
1/2 pound gruyere cheese, shredded
1 tablespoon cornstarch
1 tablespoon whole grain mustard
1 cup beer
1 clove garlic
dippers, such as chunks of bread, broccoli, cauliflower, sausage (such as kielbasa), small potatoes
Tools
Cast iron skillet
Cutting board
Knife
Medium bowl
Spoon
Large pot with steamer basket (optional) or foil for foil pouches
Serving bowls
Method
Prep your dippers. You can blanch or steam broccolli, cauliflower and potatoes, or cook them in foil pouches on the campfire. Cut sausages into chunks and brown them in your cast iron skillet. Set all your dippers aside in serving bowls.
In a medium bowl, toss shredded cheeses with cornstarch. Set aside.
Cut garlic clove in half and rub your cast iron skillet with the cut side of both pieces of garlic.
Combine beer and mustard in the skillet and bring to a boil. Add handfuls of the cheese mixture, stirring to combine. When cheese is melted and the fondue comes together, remove from heat. Eat right away with dippers.