Wes and I went on our annual backpacking trip before he had to go back to school in August. It was still the heart of summer vacation, so the concern of not getting a permit was real. I always try to choose a location that would be crowd free, but I also wanted to somehow finagle my goal of getting Wes to experience Yosemite for the first time. I decided on the Sawtooth Ridge, the northernmost border of Yosemite National Park, thanks to my father and his stories of Matterhorn Peak.
We got our permit at 4pm in Bridgeport, and the ranger strongly encouraged us to start our hike out that evening. The trailhead started at Twin Lakes, a place described by SummitPost as an "RV Hell Hole," so hiking out sooner than later sounded great. But Wes wanted to take enough time to get our packs together well, so we chose to car camp first,

It was an experience trying to find a site to put up our backpacking tent among all those RV's. SummitPost couldn't have been more right. We looked at it as a social experiment, though, and really tried to embrace the chaos. And it made it that much more exciting to head out into the wilderness first thing in the morning.
Our first night was spent at Crown Lake, and the second all the way up near Burro Pass, Yosemite. We battled the crowds in Yosemite Valley later in our trip for Wes' sake, but both of us decided that backpacking in the Yosemite Wilderness was even more beautiful, and we only saw about 4 other people.

I'm not posting recipes in the order we ate them, because I'm excited to report on my experimentation with making my own backpacking meals. On our first night at Crown Lake, we ate a store bought backpacker's meal- Pad Thai. We cleaned out the packaging as good as we could by feeding Wes "the big gulp" (add hot water to make a clean-out-the-bowl soup), and saved the pouch for future meals.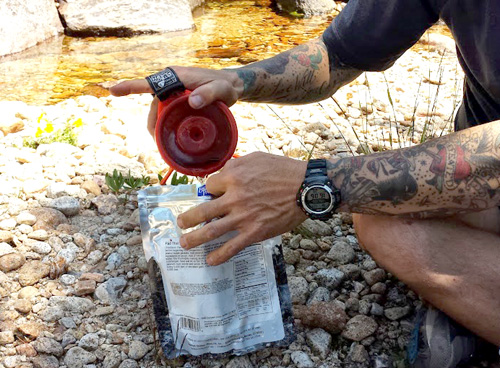 Broccoli cheese rice is one of my favorite meals. Those pre-mixed packets you can get at the grocery store are great for hiking, but they really know how to mess up a pot. Cheese is hard to clean and rice has a habit of quickly burning to the bottom- especially if you're using a highly efficient stove like the JetBoil we brought with us. But if you throw the whole thing into an old aluminum backpacker's meal pouch, you are virtually mess free, and have no need for simmer control! After a quick dinner, you can just focus on relaxing. Genius!
This recipe is for Broccoli Cheese Orzo, because I was making rice for several other meals on the trip and wanted to change it up. I pulled together the individual ingredients rather than buying the premixed kind, because I wanted orzo, and because Wes is vegan (we used fake cheese).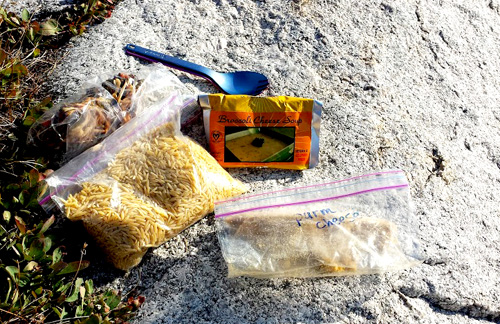 You can do whatever works best for your family! Add chicken, use a four cheese mix, throw in some dumplings, etc. The most exciting thing about this recipe is that it can easily be made using a lightweight, efficient stove, and requires no dishes to be cleaned at the end! (exept the little red bowl I used for the sake of photos).
Enjoy!
Broccoli Cheese Orzo
Prep Time / Cook Time
/
Activity Guide
Backpacking
Ingredients
1 package broccoli cheese soup mix
1 cup orzo
2 cups water
1/2 cup dehydrated veggies (optional)
1/2 cup pre-cooked chicken (optional)
1-2 tablespoons parmesan cheese, breadcrumbs, crushed chips, or crushed nuts (optional)
Tools
Medium pot
Spoon
Stove
Aluminum pouch from used backpacker's meal
Method
At home:
Dehydrate your own vegetables to add if you would like. I did a mixture of broccoli, onions, and peppers to add a little texture more texture and heartiness to the meal. Alternatively, you can buy dehydrated veggies.
At camp:
Boil water in the pot, and cook the pasta directly in it until just shy of al dente (it will cook more in the pouch).
Meanwhile, add soup mix to the aluminum pouch, along with dehydrated veggies and/or protein of choice.
When pasta is cooked, drain the water into the pouch (check directions on your particular soup mix for proper amount of water).
Drain off any unneeded water (away from your campsite), and scoop the pasta into the pouch as well.
Zip the top of the pouch closed and massage to fully mix the ingredients together. Let stand for 10-20 minutes, until pasta is fully cooked through and soup is at desired consistency.
Top with parmesan, nuts, chips, or breadcrumbs, for crunch.