In celebration of Spring, I thought I'd share one of my favorite asparagus recipes, adapted for the campfire. It's so simple that it's hardly even a recipe, but the flavor combination is really bright and a little unexpected.
Earlier in the week Mai-yan shared a great tutorial on how to cook in a foil pouch on a campfire, so take a look at that if you haven't already before you make this recipe. To make this really easy at camp, make the vinaigrette at home.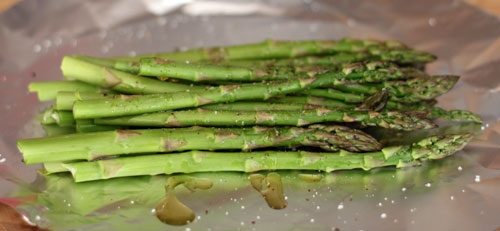 Campfire Asparagus with Mustard Orange Vinaigrette
Prep Time / Cook Time
/
Activity Guide
Car Camping
Ingredients
1 bunch asparagus
3 tablespoons olive oil
zest and juice of one orange
1 tablespoon cider vinegar
2 teaspoons whole grain mustard
salt and pepper, to taste
Tools
Cutting board
Foil
Jar
Knife
Microplane grater or zester
Method
Place the asparagus on a large piece of foil, drizzle with about a tablespoon of the olive oil and season with salt and pepper. Fold up the foil to make a pouch. See detailed instructions for making a foil pouch here. Cook the asparagus pouch on a grate over a campfire, or directly over hot coals for about 10 minutes. Of course, the cooking time varies greatly depending on how hot your fire is and whether you're cooking on a grate or directly over hot coals.
Meanwhile, combine the remaining 2 tablespoons of olive oil, orange juice and zest, cider vinegar, mustard, and a pinch of salt and pepper in a jar with a lid. Close the jar and shake well. Taste and season with additional salt and some pepper if you like.
Drizzle the hot asparagus with the orange vinaigrette and serve right away.