One truth about outdoor cooking is that there will be fails. Another truth is that even when you fail, you'll usually find a way to fix it. You're not going to be able to run to the store to pick up a forgotten ingredient, or go home for a missing piece of equipment, so you've got to figure something out. This challenge is one of my favorite things about cooking outside and this Campfire Cinnamon Roll Waffles recipe is a great example of turning a fail around.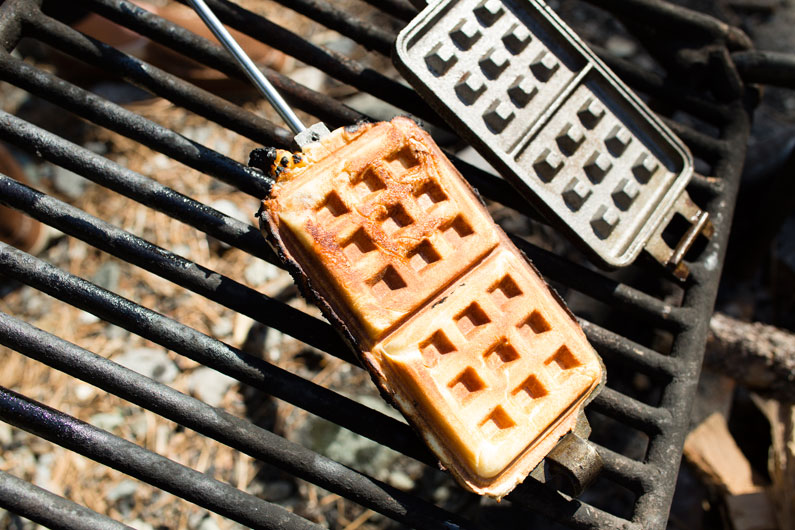 A while back, Emily, Mai-yan and I went out with our friend Ryan to test some recipes we had made at home and photograph them for future blog posts. I've been wanting to post a dutch oven cinnamon roll recipe for quite some time, and I was excited to make them on this trip. I made the dough at home so it was all ready to go at camp, but when we got to camp, we found out that campfires weren't allowed! Without a campfire, it seemed like my dutch oven cinnamon rolls weren't happening.
I couldn't let that dough go to waste though, so we got creative. We had a waffle pie iron
and decided to try putting the dough in it and cook it over my camp stove. I had a feeling it would work since I've successfully made things in my pie iron on my stove at home (yes, I might be a little pie iron obsessed). It did work, and it was perfect!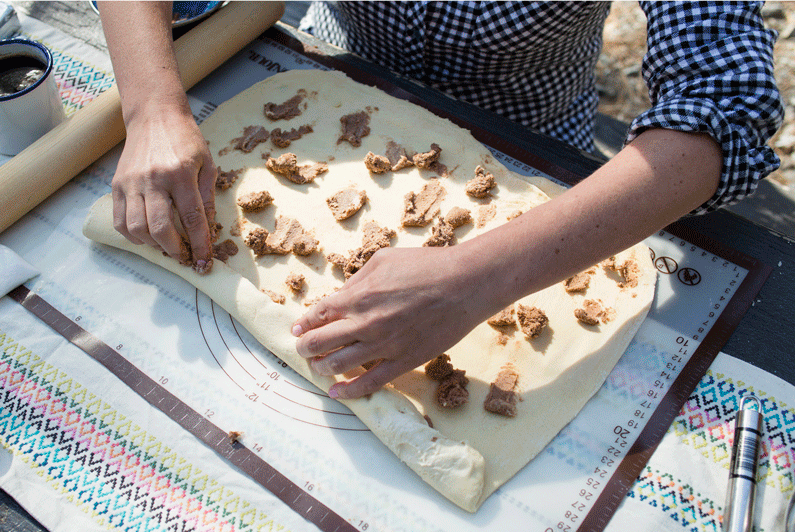 A spread of cream cheese frosting is essential for the top of these waffles. We made the frosting at camp with just a whisk, but you can make it at home with an electric mixer so you don't have to work so hard.
All photos by the talented Ryan Robert Miller. Follow him on Instagram @ryanrobertmiller.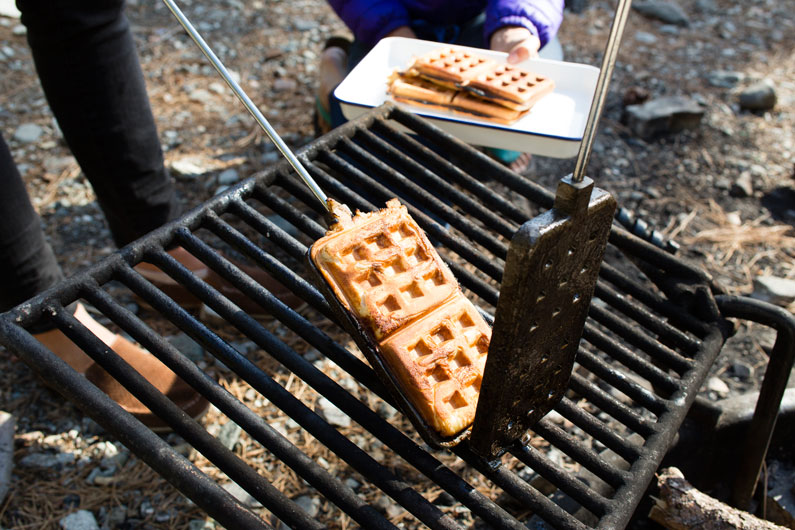 Campfire Cinnamon Roll Waffles
Prep Time / Cook Time
/
Activity Guide
Car Camping
Ingredients
1/2 packet yeast
1/4 cup sugar
1/2 cup warm milk
10 tablespoons butter, divided
1 egg
1/2 teaspoon salt
2 cups all-purpose flour, plus a bit more for your hands
1/2 cup packed light brown sugar
1 teaspoon cinnamon
4 ounces cream cheese, softened
1 cup powdered sugar
1 teaspoon vanilla extract
nonstick cooking spray
Tools
Cutting board
Foil
Knife
Large bowl
Rubber spatula
Spoon
Waffle pie iron
Large storage container with lid (for transporting dough)
Small storage container with lid (for transporting icing)
Mixer
Rolling pin (or a large water bottle or wine bottle)
Plate
Method
At home:
Combine yeast with the warm (100-110 degrees Farenheit) milk and the sugar in a large mixing bowl. Let stand for about 5 minutes.
Add 3 tablespoons of softened butter, egg and salt. Gradually mix in the flour.
Knead dough on a lightly floured surface for a few minutes until the dough forms a ball.
Coat a lidded storage container with cooking spray or a little oil. Drop in your dough ball and cover it with a lid. Place in the refrigerator until you're ready to leave for your trip, at which point you'll transfer it to a cooler.
Make the icing by combining 4 tablespoons of softened butter, the cream cheese, powdered sugar, and vanilla in a mixing bowl. Beat with an electric mixer until smooth and fluffy. Transfer to a storage container and store in the cooler.
At camp:
Punch dough down and then knead a few times on a lightly floured surface. Roll into a thin rectangle.
Spread 3 tablespoons of softened butter on the dough. Sprinkle with brown sugar and cinnamon.
Starting at one end, tightly roll up the dough into a log. Place the log seam side down on a large cutting board or other work surface. Cut into 6 pieces.
Preheat your waffle iron over a campfire for a few minutes. When it's good and hot, spray it with some nonstick cooking spray and carefully place one cinnamon roll inside. Close the waffle iron and cook over a hot campfire until the dough is cooked through, turning and checking frequently.
Place the waffle on a plate and cover it with some foil (or place it in a warm dutch oven) to keep it warm while you cook the remaining waffles.
Spread a generous amount of icing on top of each cinnamon roll waffle and serve.