Camping for Thanksgiving is a surprisingly popular and awesome way to spend time with your family. With REI's announcement to #OptOutside this Black Friday instead of participating in the retail nightmare, we're hoping everyone is going to take to the outdoors with us for the 2 days off! It can be overwhelming if not properly prepared for, so we are partnering with our friends at Fresh off the Grid to bring you some great recipe ideas and hints to have the best, most successful, outdoor Thanksgiving of your lives!
While you may be trying to figure out how to roast a turducken in the campfire, we decided to put more of our focus on the all important, but easily forgotten sides.
Some tips from our Thanksgiving to yours:
Cook mostly in cast iron and foil for easy cleanup
Use serving dishes that have lids, like Pyrex, so you can just pack them up in the cooler quickly at the end of the meal.
Have everyone bring one extra storage container for the sake of a leftover swap the day after. Make sure they are backpack friendly (lightweight, crush-proof) so you can take your leftovers on a nice hike.
These Sweet Potatoes with Miso Scallion Butter are super simple but also very special. I find it really difficult to make sweet potatoes interesting. They're kind of that obligatory dish on our Thanksgiving menu. I can't not have them, but I never really want them either. This year, I think I found the answer to my sweet potato dilemma, and it works perfectly on a campfire.
I found these Japanese sweet potatoes at my local Trader Joe's, but I've also seen them at Whole Foods and the farmer's market. They have dark purplish skin and yellow flesh. They're less sweet than most sweet potatoes, and they remind me of chestnuts.
Miso scallion butter is sharp and salty and is the perfect complement to the smokey campfire sweet potatoes.
If you want to do all the prep ahead of time, you can bake the sweet potatoes and make the miso scallion butter at home. Then just reheat the potatoes in your campfire. Either way, the best part is that you get to sit by the campfire while you cook them!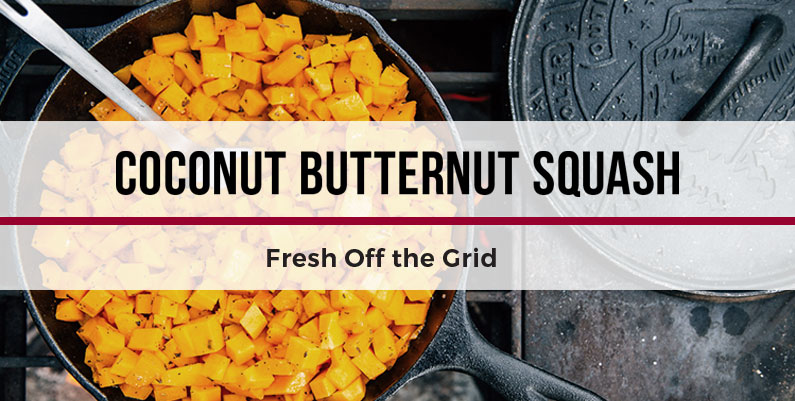 We're pairing our sweet potatoes with this Coconut Butternut Squash from Fresh off the Grid. Butternut squash is another delicious and colorful vegetable that is perfect for the campfire, and it gets elevated in this recipe by a little hit of coconut from coconut oil. Click here to view the recipe.
Campfire Miso Scallion Sweet Potatoes
Prep Time / Cook Time
/
Activity Guide
Car Camping
Ingredients
4 sweet potatoes (preferably Japanese)
6 tablespoons butter
2 teaspoons miso
2 scallions, thinly sliced
Tools
Cutting board
Foil
Knife
Small bowl
Spoon
Method
Wrap each sweet potato in foil and place in the coals of a hot campfire. Turn the sweet potatoes frequently to keep them from burning. After about 30 minutes, pull a potato out and check to see if it's done. When the potatoes are soft, remove them from the fire.
Meanwhile, combine butter, miso and scallions in a small bowl.
Cut each potato lengthwise and fluff up the insides with a fork. Serve with the miso scallion butter.