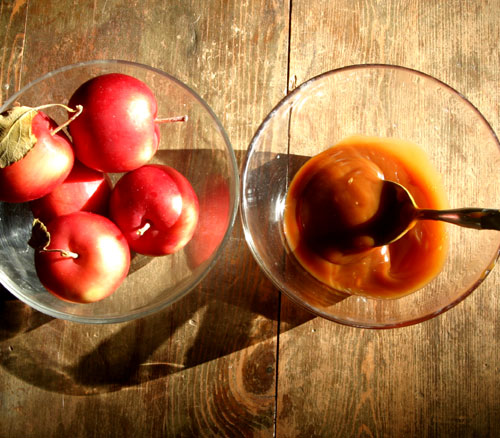 Aimee came over to my house to work a few weeks ago. We were sitting around the table avoiding real work talk, and started reminiscing about our childhood as cousins. She said the main thing she remembered about my mom when we were kids was that my mom used to always have caramel apple dip around. This was very true. It was the store-bought kind, and with Fall on our minds, we took off to the store to buy some. When we got home, it was just as delicious as we remembered, but we looked at the ingredients, and pretty much the only ingredient in there was high-fructose corn syrup. I decided that day to learn to make my own.
Yesterday, without a candy thermometer or wooden spoon, I did it. Instead of high-fructose corn syrup, my version is made with a full cup of sugar, a half a cup of butter, and a whole can of sweetened condensed milk. And though the level of "healthier" is debatable, it is even more delicious.
This morning, I got up and pulled my jar of caramel apple dip out of the fridge to test its thickness while cold (in case you are camping in the fall/winter with fresh picked apples). I tried to twist off the lid, but I hadn't done the best job of cleaning the hot liquid sugar off of it before sealing it last night. I gripped hard with my rock climber strength, and ended up twisting the whole jar out of my hands and across the kitchen. The jar smashed all over the place. Bummer. So, I just pulled the bottom of the jar off instead and saw that the consistency was much thicker than the store-bought stuff and still perfect for apples. I even chanced a little internal bleeding and ate a fingerful of it before sadly giving it to the trash- totally worth it, even with the plan to make another batch a half hour later.
For my second batch, I switched out the condensed milk for heavy cream (still just as healthy), because of the recipe I found on Simply Recipes. She suggests skipping the water and melting the sugar straight away. Of course, I burnt it. I think most chefs that try this method probably burn theirs, because isn't "burnt caramel" a popular gourmet flavor nowadays? It still turned out surprisingly delicious. Kudos to the chefs that were willing to taste their mistakes and push it on their guests anyway.
We've been excitedly discussing a fall apple-pickin' trip since my birthday in July, and I now have a little treat to take in my cute picnic basket with me to that trip, which will be happening sometime in the next two weeks. For now, I'm sticking with the sweetened condensed milk recipe. That's what I recorded here. The texture is just a bit thicker, which makes it seem less messy, and I could potentially make this in the backcountry since the can of condensed milk is not perishable. Feel free to switch it out for 1/2 cup of heavy whipping cream though. The flavor is more buttery.
Caramel Apple Dip
Prep Time / Cook Time
/
Activity Guide
Bike Touring, Car Camping, Day Trip, Picnic
Ingredients
1 cup sugar
1/2 cup water
6 tablespoons butter
1 14-ounce can sweetened condensed milk
Tools
Jar
Measuring cups
Mixing spoon
Whisk
Heavy 2 quart pot
Method
Prep your ingredients by unwrapping the butter, opening your can of condensed milk, and setting them all next to the stove.
Pour the sugar and water into the pot and stir to combine. Place the pot on the stove over medium-high heat.
Stir continuously until the mixture starts to boil, about 5 minutes.
Once it starts boiling, stop stirring. You can swirl the pot a little if the sugar is browning unevenly. If you swirl it too much, sugar will stick to the sides and become chunks later. Watch it carefully so it doesn't start to burn.
Once the mixture is golden brown, add the butter and stir vigorously until it is completely melted. It will froth a lot.
After the butter is melted, remove from the heat and stir in the sweetened condensed milk. Again, stir vigorously until it is completely combined. It will still be frothy.
Let cool for 5 minutes in the pot, then transfer it to a jar to cool completely. Be careful! Liquid sugar is extremely hot! If you get caramel around the lip, clean off well before closing the lid.