It's climbing season right now, and despite a crazy schedule, I've managed to squeeze in a couple day trips out to Joshua Tree. I tend to get lazy about preparing food for day trips, which means I end up eating a lot of junk food from the gas station. I told myself that I wouldn't do that this time. I decided I would actually take the time to prepare a good lunch or snack to munch on throughout the day.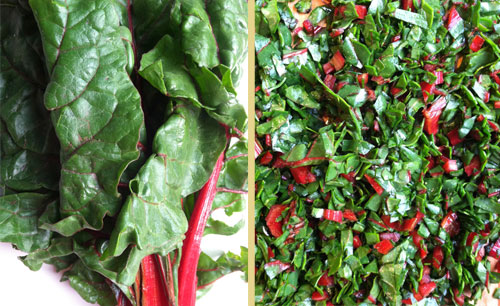 I wanted something that would be savory but easy to carry. I originally was going to make mini-quiches, but the non-baker that I am failed on the dough portion of that idea. With a little improvisation, I turned my egg batter into mini-frittatas. As a snack, I actually think these are better than quiche because you don't have to worry about a fragile crust crumbling on you.
I baked the chard and gruyere frittatas in a muffin tin to create individual portions and popped them into cupcake paper cups after taking them out of the oven. Next time, I might just bake them directly in the cups but I'm not sure how the egg and paper cups will play together.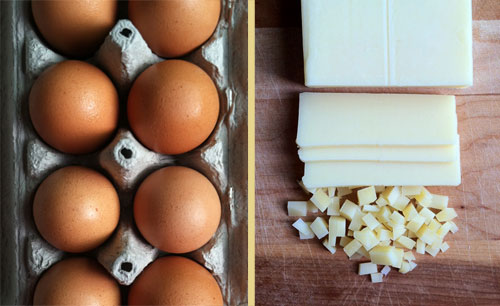 In terms of flavor, these chard and gruyere frittatas are not shy. In one bite you get a taste of earthy chard with hints of garlic and creaminess from the gruyere – all complimenting the star egg flavor of these frittatas. These pair nicely with a fresh baguette if you are looking for some carbs to accompany your protein.
The beauty of this recipe is that you can always substitute the vegetable and cheese with whatever you prefer (we realize chard isn't winning any popularity contests). Remember – it's always worth the effort to make something delicious for a day trip!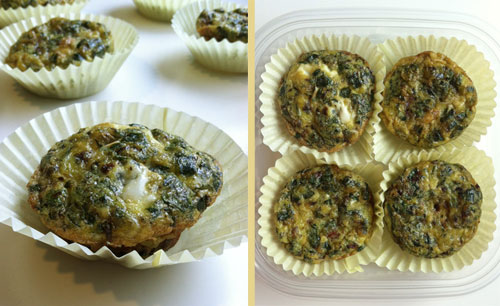 Chard and Gruyere Frittata To Go
Prep Time / Cook Time
/
Activity Guide
Car Camping, Day Trip, Picnic
Ingredients
1 garlic glove, finely chopped
1/2 sweet onion, finely chopped
2 leaves of chard, finely chopped
1/4 cup of finely chopped gruyere
5 eggs
1 tablespoon butter
salt and pepper, to taste
Tools
Cutting board
Knife
Medium bowl
Mixing spoon
Skillet
Whisk
Muffin tin
Method
Preheat oven to 350˚F and grease 6 cups of the muffin tin with butter. Skip this step if you are baking the frittata directly in muffin paper cups.
Put remaining butter in skillet and melt with medium heat. When butter is melted, add onions and garlic to skillet. Cook until onions are translucent or no longer crunchy, stirring occasionally. If butter is browning too fast, lower heat.
Add chopped chard to skillet. Cook for a few minutes until it is wilted. Remove from heat and set aside.
Crack 5 eggs into a bowl and whisk lightly. Add a tablespoon or two of water if you want to make the eggs extra fluffy.
Add cheese and chard to eggs and mix so that ingredients are evenly distributed.
Pour egg mixture into muffin tin so that each cup is full. Put in preheated oven for 15 minutes or until top of frittata is just cooked.
Remove from oven and carefully pry them out of muffin tin to cool. These will fluff up and shrink down again once they out of the oven.