My biggest food discovery last year was at a the local standard, Crossroads Cafe in Joshua Tree. I had ordered a dish called Piggy Pancakes thinking it was pancakes with a side of bacon. To my surprise, two large pancakes arrived and nothing else. I was dismayed, but dug in anyways.
As I cut into the pancakes, I discovered cheese, scallions and bacon all mixed into the batter. I was intrigued. I added a little bit of maple syrup and suddenly I had the perfect combination of sweet and salty flavors. I was hooked.

After many attempts of recreating this at home, mostly struggling with a good pancake batter, I am excited to share this with you. It's my favorite new dish, and, since it's savory, I think it's fair game for dinner.
These are all typical ingredients, but combining them in a slightly different way transforms them into a delicious and surprising dish. It will make you happy! I suggest making the pancake batter at home to reduce prep time at camp.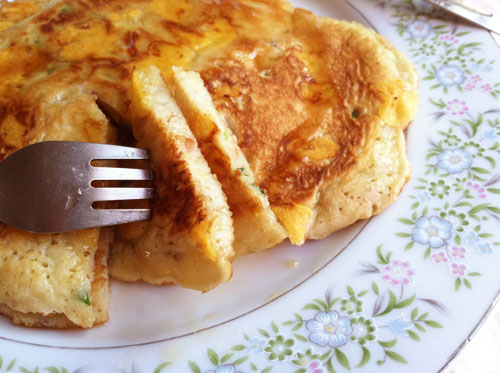 Cheddar and Bacon Pancakes
Prep Time / Cook Time
/
Activity Guide
Car Camping
Ingredients
1 cup all-purpose flour
2 teaspoons baking powder
1/2 teaspoon salt
1 cup milk
3 tablespoons vegetable oil
1 large egg
4 strips of bacon, cooked and finely chopped
2 green onions, finely chopped
1/3 cup sharp cheddar cheese, in 1/8 in cubes
maple syrup
Tools
Cutting board
Knife
Medium bowl
Skillet
Spatula
Whisk or fork
Large zip top bag
Method
At Home:
In a medium bowl, whisk together milk, oil, and egg. Add dry ingredients to milk mixture; whisk until just moistened. Do not overmix; a few small lumps are fine.
Add green onions and bacon to the batter and mix.
Carefully pour batter into a large zip top bag and store in refrigerator or cooler until you are ready to make the pancakes.
At Camp:
Heat skillet on medium heat with 1 tablespoon of vegetable oil. Don't skimp on the oil, especially if your skillet is not non-stick.
When skillet is hot, pour batter into skillet (about 2-3 tablespoons worth) and immediately sprinkle the cheese cubes in the pancake.
Flip your pancake when batter has little bubbles coming through. Use the spatula to press down on the pancake a little.
Your pancake is ready when the second side is golden brown with beautiful melted pockets of cheese.
Serve immediately with maple syrup (real maple syrup!!).