I recently bought a cookbook called Feedzone Portables, literally, by looking at it's cover. There is a picture of little portable packet meals, and I realized that this is a type of meal that is really worth focusing on.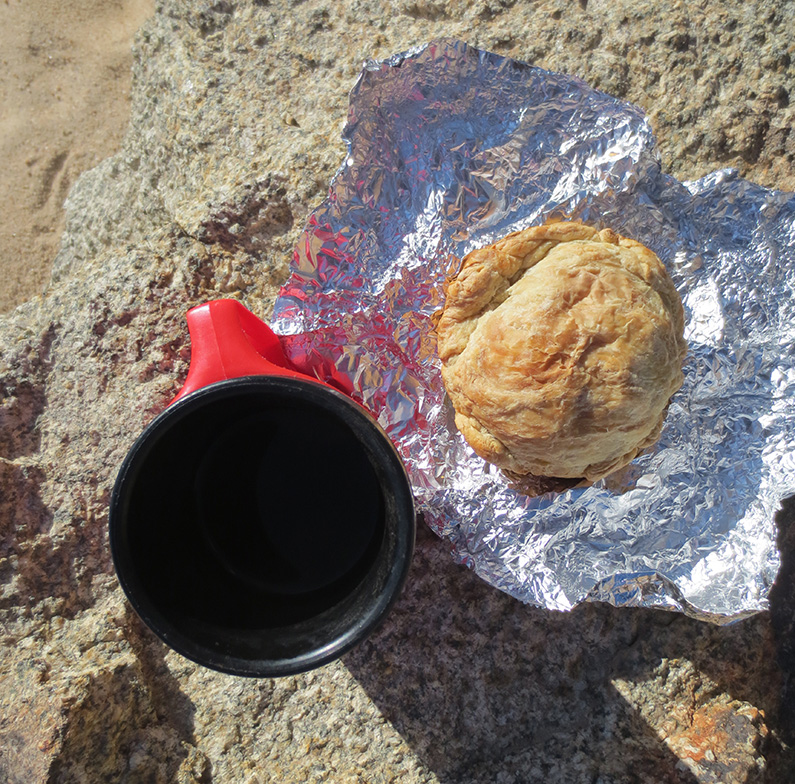 We take a lot of climbing day trips or quick overnighters whenever we can get away with them. These are usually not well-planned ("Oh hey, we both get off of work early today and go into work late tomorrow- let's go!") so it's hard to plan our meals very well. The idea behind portable packet meals is that you can whip up a batch of rice or grits or mashed potatoes (or just use leftovers from last night), stuff them with cheese, sausage, vegetables, or anything delicious that you have in your house, and you're good to go. If you want to take it a step further, wrap that whole thing in some sort of dough and bake it for 20 minutes.
I don't have muffin tins in my house, or I'd probably have used them for this. I used individual ramekins, so the serving sizes were on the large side. We're planning to make empanadas in this style for our backpacking trip this weekend. Do you have another idea I could try? I still need a lunch for the second day.
Cheesy Sausage Grits Cakes
Prep Time / Cook Time
/
Activity Guide
Backpacking, Day Trip
Ingredients
1 Cup grits
1 Sheet puff pastry (optional)
1 Cup breakfast sausage, pre-cooked and crumbled
1 Cup shredded cheese
1 Cup Kale
1 Onion, diced
Tools
Cutting board
Foil
Knife
Large bowl
Medium pot
Ramekins or muffin tins
Method
Fill a pot with 4 cups of cold water. Add the grits and stir. Cook over medium heat, stirring occasionally, until thick and creamy, about 20 minutes.
Let grits cool for about 15 minutes, until they just start to harden.
Meanwhile, preheat oven to 400 degrees (if using puff pastry)
Scoop a heaping spoonful of grits into a muffin tin or ramekin, allowing it to fill the dish about 3/4 of the way.
Add 1/4 of the sausage, cheese, kale, and onion to the center of the grits, and press into the middle.
Cover the filling with more grits, and press into the dish.
If using puff pastry, cut the sheet into quarters.
Overturn each ramekin onto one quarter of the puff pastry sheet, and then wrap the sheet around the grits cake. Replace the pastry-wrapped cakes to the ramekins or muffin tins (it's probably easier to use a ramekin if you're using the pastry dough).
Bake at 400 degrees until golden brown, about 20 minutes.
Wrap in foil and refrigerate until your trip.