Everything is better with bacon. And cheese. Even in the backcountry. Even when you're vegan.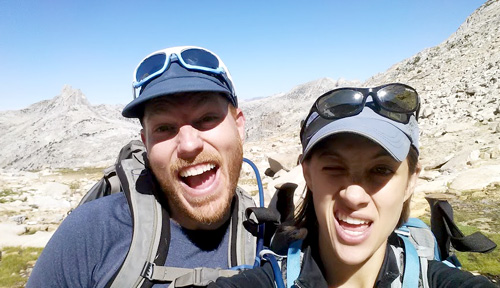 We ate this meal on the last night of our Sawtooth Ridge trip last August. The trip was a feat for me to overcome, because Wes and I rarely eat the same meal. He's vegan, and LOVES vegan cheese, hot sauce and pickles. I don't particularly like pickles and hot sauce on everything, but I definitely HATE vegan cheese in (almost) all its forms. Before this trip, we'd gone to a vegan market looking for non-perishables to turn into backpacking meals, and found a vegan cheese sauce powder. I nervously agreed to try it, and the recipe it was tried on was this one.
I'm not suggesting that you make this meal vegan, or even vegetarian. By all means, use a real cheese sauce and/or real bacon bits if you want. I am only here to tell you that if you do want to try a satisfying, rib-stickin' vegan recipe, this is the one to try.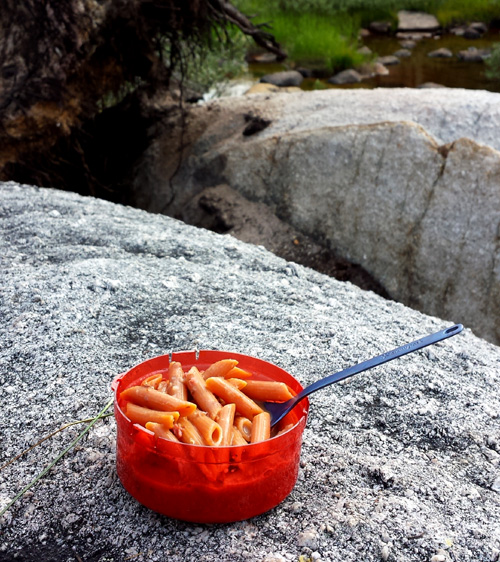 We spent literally the entire hike back the next day (7 miles) naming all the things we could make with the vegan cheese sauce when we got back home. I was like Bubba Gump rattling off shrimp options. Seven miles.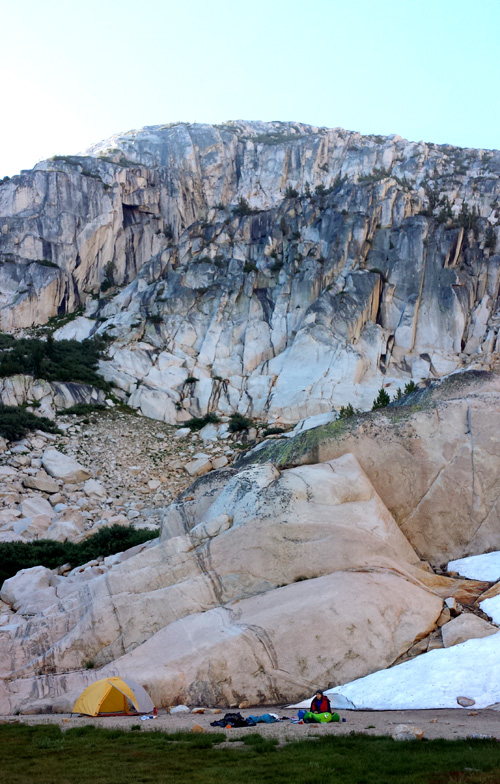 Bacon bits are an easy, inexpensive way to bring a lot of flavor and some protein to any camping meal. This is a classic recipe eaten in many households, but not one often thought of in the backcountry. Now you can!
Chili Mac with Bacon
Prep Time / Cook Time
/
Activity Guide
Backpacking
Ingredients
1/2 pound pasta
2 cups water
1/2 cup bean flakes
1/3 cup cheese sauce powder (check directions for your particular cheese sauce)
1/4 cup bacon bits
Tools
Small pot
Spoon
Backpacking stove
Mylar pouch
Method
Bring 2 cups of water to a boil in your pot. Add pasta to boiling water, and cook until al dente, about 10 minutes. Strain off about half the water from the pasta. Save the other 1/2-1 cup.
If using a mylar pouch, add bean flakes, cheese sauce, and pasta to the pouch. If not, add the bean flakes and cheese sauce to the pasta pot. Mix in 1/2 cup of water, and either stir (if using a pot) or zip the pouch closed and massage to mix well.
Check after 2 minutes. If still too thick, add more water. Let sit for about 5 more minutes until an even sauce has formed and the pasta is perfectly cooked. Add bacon bits, and dig in.