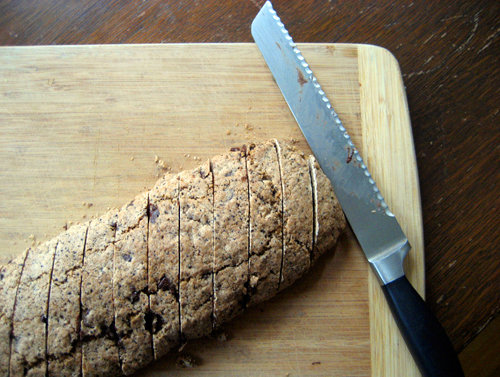 One of my favorite treats to bake at home and bring along on a long hike are homemade biscotti. Biscotti are crunchy, twice-baked cookies, and are great for dipping. Homemade biscotti are infinitely better than any you can buy in a store, and when you're hungry and need a quick energy boost, they're even yummier. Biscotti are great to stuff in your pack because they're almost indestructible, unlike most cookies, and they also age well. I like them even better a few days after I've baked them.
I like to make several different types of biscotti, from dried cherry and pistachio to cinnamon sugar. The basic recipe is the same. The variation comes in the flavorings and add-ins. After my post on camping coffee, I was inspired to make chocolate chip and coffee biscotti for our recent ski trip. With a hot cup of coffee, they were a great ending to our fantastic picnic.
A couple of tips for making great biscotti:
After you bake the biscotti logs, brush or spray them with water. This softens the logs just enough to make cutting easier.
Don't try to slice the biscotti too thin—3/4 inch is about right.
If you want short biscotti, slice them straight across. If you want them to be longer, slice them at an angle.
Chocolate Chip and Coffee Biscotti
Prep Time / Cook Time
/
Activity Guide
Backpacking, Bike Touring, Car Camping, Day Trip, Picnic
Ingredients
2 3/4 cups (355 g) all-purpose flour
1 cup (200 g) sugar
2 teaspoons baking powder
1 teaspoon cinnamon
1/4 teaspoon salt
2 tablespoons finely ground dark roast coffee
1 cup (170 g) chocolate chips
2 tablespoons canola oil (or other flavorless oil)
2 teaspoons pure vanilla extract
3 large eggs
Tools
Cutting board
Measuring cups
Measuring spoons
Mixing spoon
Whisk
2 mixing bowls
Baking sheet
Serrated knife (or sharp chef's knife)
Method
Preheat oven to 350° F. Line a baking sheet with parchment or a silicon baking mat, or coat with cooking spray.
Combine flour, sugar, baking powder, cinnamon, salt, ground coffee, and chocolate chips in a mixing bowl.
In a separate large bowl, combine oil, vanilla and eggs.
Add dry ingredients to wet ingredients and stir until blended well. The dough will be quite dry. With your hands, knead the dough just until it comes together.
Divide the dough in half and shape each portion into a log, about 8 inches long, flattening the log to about 1-inch thick. Place the logs several inches apart on the prepared baking sheet.
Bake for 35 minutes. Reduce the oven temperature to 325°F. Remove the logs from baking sheet and cool for about 5 minutes. Brush the logs lightly with water and let them cool for another 5 minutes.
On a cutting board, with a serrated knife, cut the biscotti into 3/4 inch slices. Arrange the slices, cut side down, on the baking sheet and bake for 10 minutes. Turn the slices over, and bake for another 10 minutes. Remove from the oven and let cool. The biscotti will be slightly soft until they cool completely.