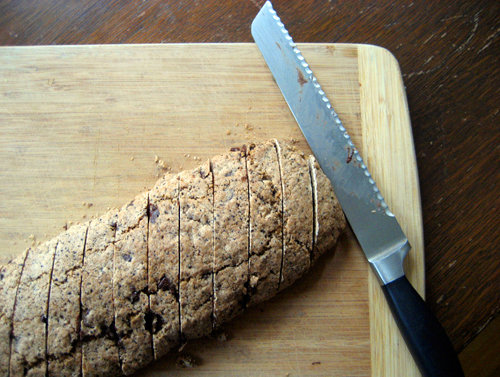 One of my favorite treats to bake at home and bring along on a long hike are homemade biscotti. Biscotti are crunchy, twice-baked cookies, and are great for dipping. Homemade biscotti are infinitely better than any you can buy in a store, and when you're hungry and need a quick energy boost, they're even yummier. Biscotti are great to stuff in your pack because they're almost indestructible, unlike most cookies, and they also age well. I like them even better a few days after I've baked them.
I like to make several different types of biscotti, from dried cherry and pistachio to cinnamon sugar. The basic recipe is the same. The variation comes in the flavorings and add-ins. After my post on camping coffee, I was inspired to make chocolate chip and coffee biscotti for our recent ski trip. With a hot cup of coffee, they were a great ending to our fantastic picnic.
A couple of tips for making great biscotti:
After you bake the biscotti logs, brush or spray them with water. This softens the logs just enough to make cutting easier.
Don't try to slice the biscotti too thin—3/4 inch is about right.
If you want short biscotti, slice them straight across. If you want them to be longer, slice them at an angle.