A couple of weeks ago, my friends somehow convinced me to pick up a tennis racket and hit some balls around. This is not an easy feat. You may not believe it, but I'm pretty resistant to trying new things, especially sports. I won't call what we did playing tennis, cause I actually have no idea how. But it turned out to be so much fun, and I realized I'd forgotten how great it is to just play. It puts a huge grin on my face, and it makes me forget all my worries. I'm ashamed that I'd forgotten that, but grateful now to remember. When did life become so serious, anyway? I think I might just make tennis my new hobby.
Emily came back from her trip to Colorado last month raving about playing in the snow. Her pictures are amazing, don't you think? She also raved about this Double Dark Chocolate Bread that her friend Crystal made for their play day. She generously sent us the recipe–thanks for sharing, Crystal! It would be great for a picnic, especially with a thermos of steaming coffee.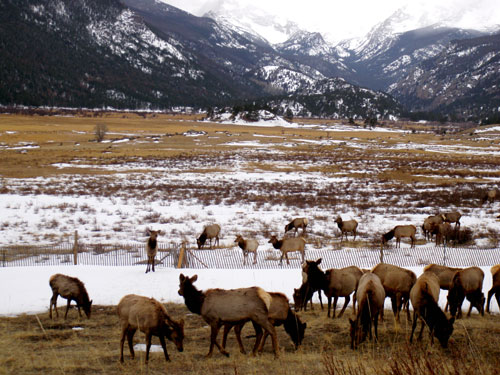 Double Chocolate Quick Bread
Prep Time / Cook Time
/
Activity Guide
Backpacking, Day Trip, Picnic
Ingredients
1 cup semisweet chocolate chips
1/2 cup butter, softened
2/3 cup brown sugar, packed
2 eggs
1 1/2 cups unsweetened applesauce
2 teaspoons vanilla extract
2 1/2 cups all-purpose flour
1 teaspoon baking powder
1 teaspoon baking soda
1 teaspoon salt
1/2 cup dark chocolate chips (or just semisweet)
1/4 cup walnuts (optional)
Tools
Food processor or blender
Large bowl
Measuring cups
Measuring spoons
Medium bowl
Mixing spoon
Loaf Pan
Method
Preheat oven to 350° F.
Melt 1 cup chocolate chips (I did this in the microwave) and set aside to cool. Cream together softened butter and brown sugar until light and fluffy. Add eggs and cooled chocolate and mix well. Mix in applesauce and vanilla and set aside. In a separate bowl, combine flour, baking powder, baking soda and salt. Slowly add to butter mixture and mix well. Stir in remaining chocolate chips and walnuts.
Pour into one large greased loaf pan or several small ones. Bake for 45-55 minutes, or until a toothpick inserted into the center of the loaf comes out clean. Towards the end, I usually put some tin foil over the top to keep it from burning. Once it is cooled, pack it up for your trip.