Ok, so they aren't exactly potato skins, but they taste the same, which is amazingly delicious, and the shape is much more appropriate for camping.
I've always wanted to make potato skins on the campfire, but I didn't want the extra task of dealing with the rest of the potato. I finally devised a way to do it with no waste or second recipe. I cut the potato into thick disks, or medallions. They baked up nicely in a dutch oven in a matter of about 15 minutes. A dutch oven would do larger quantities, but I also like the idea of using a pie iron and having my guests cook up their. This would make cooking them into more of an activity, and it would be more difficult to get filled up before dinner. (It's hard to stop yourself from shoveling too many potatoes into your mouth when you're hungry- or ever).
I recently tested this recipe out while I was stuck in the latest "storm of the century" on the east coast (we've been having a lot of those lately). I was in North Carolina, which got more ice than snow. Though dangerous, the woods looked incredibly beautiful. It was as if every tree branch and blade of grass was encased in glass.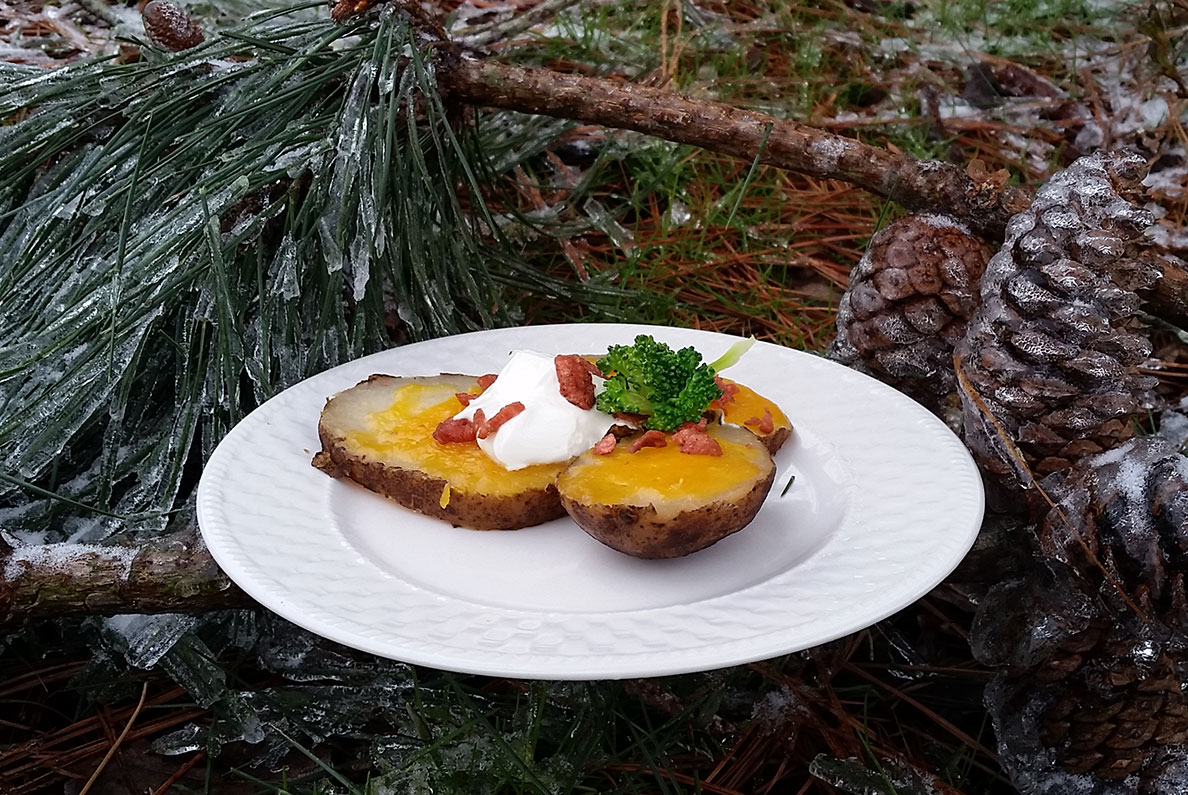 Campfire food is my favorite kind to make in the winter. No one should have to be banished away from the warmth while cooking for the rest of the group.
Dutch Oven Potato Skins
Prep Time / Cook Time
/
Activity Guide
Car Camping
Ingredients
2-4 baking potatoes
1/4 cup olive oil
1 teaspoon salt
1/2 teaspoon pepper
1 cup cheddar cheese, shredded
Garnishes: sour cream, bacon bits, steamed broccoli
Tools
Campfire
Cutting board
Dutch oven
Grater
Knife
Method
Slice a baking potato into 3/4 inch medallions, discarding the ends.
Coat each medallion in olive oil and sprinkle with salt and pepper.
Lay each medallion flat on the bottom of your dutch oven. Squash in only the amount that will fit flat.
Place dutch oven in the campfire, and arrange coals to achieve approximately 450 degrees (see this Dutch Oven Temperature Chart for reference)
Bake potato medallions until crisp on the bottom, about 10 minutes. Flip and bake until crisp on the other side, about another 10 minutes.
Top with shredded cheese, and place the lid back on the dutch oven until the cheese is melted.
Serve garnished with sour cream, bacon bits, and steamed broccoli.