This week, I went to work with Mai-yan's fiance Nick, who is the site supervisor of a Habitat for Humanity build in Lawndale, CA. Habitat for Humanity is an organization that was started by Jimmy Carter in order to provide housing to less fortunate families. The homes are built almost entirely by volunteers and the families themselves. I expected the work to be hard, and after getting up at 5 a.m., fighting LA traffic for 3 hours, and burning my tongue on coffee, I was sure it would be a long day. But when I got there, I was met with nothing but motivated positivity.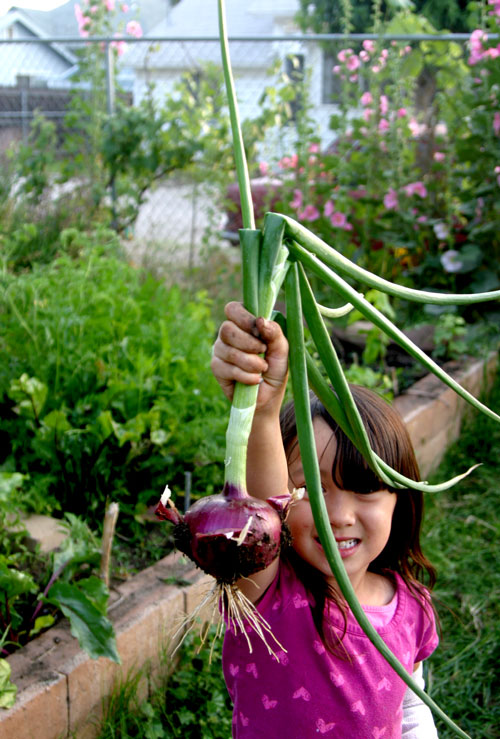 Nick has funny stories that come out of having to teach construction to a new group of people every day ("dig a hole 18 inches deep" was interpreted as "dig a hole 18 feet deep" for instance). I imagined that job would be generally frustrating for him, but the day I spent there proved differently. All the volunteers were full of energy and excitement to learn something new, worked hard, and had a great day. Instead of coming to work to deal with the same old people and negative attitudes, he gets to hang out with the most enthusiastic people you can find. The ones who actually want to work. I made new friends, learned new skills, and was super energized by the whole process. It made me want to do it again. And again. And come up with more events that I can go to as well- even if they aren't local to my particular city. If you have any suggestions, let us know.
Yesterday, I decided to host my own little local event in my own backyard—a community garden work party. My gardening partner moved out last month, and so I'm turning the yard into a community garden. We have plenty of vegetables to share, and can have a bunch more if I get a little extra help occasionally. We'll hopefully get some more seeds planted, weeds unplanted, and then we'll get to eat some stuff that is already ready (which is a lot!).
Next time I go to a local event (which will be soon), the other two Dirty Girls are comin' with me. And we're bringing snacks, which will probably include this eggplant caponata, since I'll have eggplant and tomatoes from my garden soon. If you've never tried eggplant caponata, you're in for a treat. It's sweet, sour and salty, and makes the most perfect picnic food. Spread it on bread or crackers on its own or layer it with veggies on a sandwich.
Eggplant Caponata
Prep Time / Cook Time
/
Activity Guide
Car Camping, Day Trip, Picnic
Ingredients
1/3 cup olive oil
1 large onion, finely diced
3 stalks celery, diced
1 medium eggplant (about 1 1/4 pounds), peeled and cut into 1/2-inch cubes
2 fresh or canned tomatoes, chopped
1/3 cup green olives, chopped
1/4 cup raisins
2 tablespoons capers
2 tablespoons tomato paste
1 1/2 tablespoons sugar
1/4 cup red wine vinegar
2 tablespoons pine nuts
1 teaspoon salt, plus more to taste
A few generous sprinkles of freshly ground black pepper
Tools
Cutting board
Knife
Large pot
Mixing spoon
Method
Heat the olive oil in a large pot over medium heat. Add the onions and celery, and cook until wilted. Stir in the eggplant and cook, stirring occasionally, until lightly browned. Stir in the remaining ingredients. Taste and add more salt and pepper if needed. Simmer the mixture over low heat, covered, until the eggplant is very soft, about 30 minutes.
Cool to room temperature. Eggplant Caponata tastes best after a day or two. Serve with bread, crackers, over pasta, or just as a side dish. Keeps for about a week in the refrigerator.