I've been making versions of these eggs poached in tomato sauce for years but it's always been something I only make for myself. It's such a humble recipe that I was almost embarrassed to make it for anyone else. But recently I've made it for more than just me and it's been a hit. My kids love it, and it comes together really quickly, with only pantry ingredients. All those reasons have turned something that I used to eat only by myself into something I make for lunch or dinner regularly.
I love the idea of this recipe for a camping trip. It's a one-pot, nourishing meal that will leave you satisfied. It's also easy to improvise. Though it's so much better with this homemade sauce, if you're really in a hurry you can certainly make it with a jar of marinara.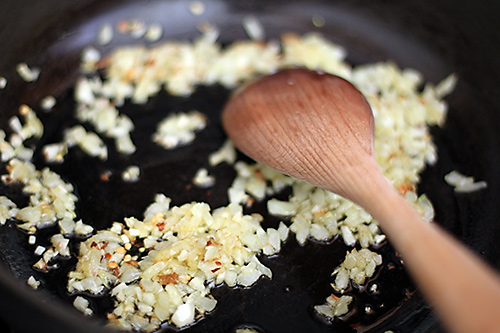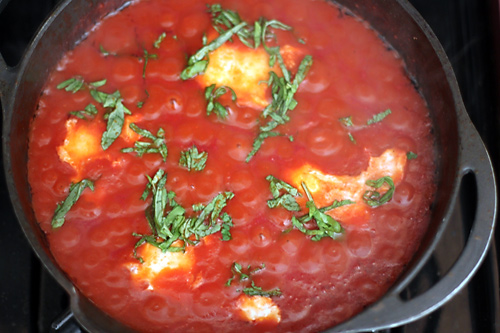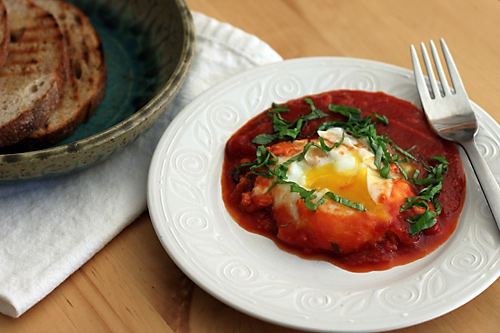 Eggs Poached in Tomato Sauce
Prep Time / Cook Time
/
Activity Guide
Car Camping
Ingredients
2 tablespoons olive oil
1/3 cup minced onion
3 cloves garlic, minced
pinch of red chile flakes
2 15-ounce cans tomato sauce
1/2 cup water
1 tablespoon butter
1/2 teaspoon salt
1/2 teaspoon pepper
4 eggs
crusty bread
Tools
Cutting board
Knife
Small bowl
Spoon
Deep skillet with a lid
Method
Saute the onion in olive oil in a deep skillet over medium heat, until it's just beginning to brown. Add the garlic and saute for another minute or so. Add the chile flakes, tomato sauce, water, butter, salt and pepper. Bring to a boil and then reduce the heat to a simmer. Partially cover the skillet and simmer for about 10 minutes.
Crack each egg into a small bowl and drop them into the tomato sauce one at a time. Cover the skillet and cook until the egg whites are set but the yolks are still runny. This will probably take between 5 and 8 minutes.
While the eggs are poaching, toast some bread over the campfire or on a camp stove toaster.
Serve hot with the toasted bread.