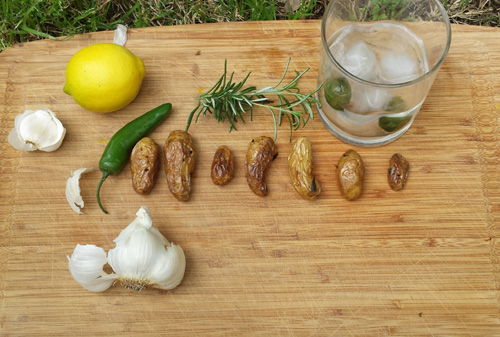 Happy Valentine's Day! Today, I committed to changing my name. I wasn't sure what I'd decide until an hour before the marriage license appointment. I don't think of myself as very traditional, and my husband-to-be wasn't pushy at all, so I'm surprised at myself. The closest non-traditional choice I made was to make my maiden name a second middle name. I even almost convinced Wes to make my last name his second middle name as well. But we didn't do it, and that's perfectly fine. He and I will be the same family soon, and I'll always be content knowing that I wasn't forced into anything.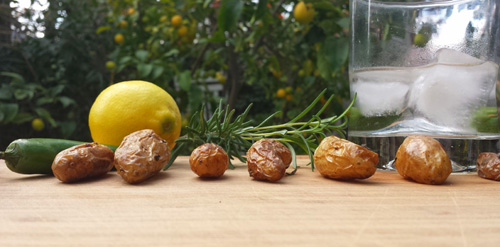 Potatoes were an easy choice for the wedding meal. There's never been a potato-hating human that I've ever heard of, they're easy to make ahead, and they pair well with sausages. But we've been trying to come up with a fancy enough option. We found this recipe first, and thought it was unbeatable. Until I made these olives. We tested them as an appetizer, and they were delicious, but they shriveled too easily in the oven. I can't be worried about watching them while also getting pretty on wedding day, so I'll have to do something different with olives. But using the same recipe on fingerling potatoes produced the best potatoes I have ever eaten. Super flavorful! Almost like salt and vinegar, but with more interest and a little more kick. These are perfect. Now, I just have to find bulk fingerling potatoes, and remember to buy twice as many as I think we'll need. They'll make a perfect midnight snack.
Gin Marinated Potatoes
Prep Time / Cook Time
/
Activity Guide
Car Camping, Picnic
Ingredients
1 pound fingerling potatoes
4 tablespoons olive oil
4 tablespoons gin
2 sprigs rosemary
3 cloves garlic, smashed
1 lemon
1 serrano pepper, halved
salt and pepper
sour cream (optional)
Tools
Cutting board
Spoon
Vegetable peeler or paring knife
Dutch oven, baking dish or foil
Method
Preheat oven to 400 degrees or start a campfire.
Combine all ingredients in a baking dish or foil packet. Stir to ensure potatoes are coated well with olive oil and gin.
Roast for 20-30 minutes, until potatoes are fork tender, stirring or shaking every 5-10 minutes.
Serve warm or cool, with sour cream on the side.