Welcome, 2014! As much as I love the holidays, I'm always ready for the refreshment of a new year.
2013 was a whirlwind, but we did manage to get the kids out camping. This year I hope to get them out for many more adventures. They're a little over a year old now, and it's so much fun to introduce them to new experiences. When we took them places even just a few months ago it often felt like it was really just for us adults. They didn't interact much with each other or with what was around them. But now that they're a little older, that's changed and it feels much more like the effort of a trip is for both us and the kids.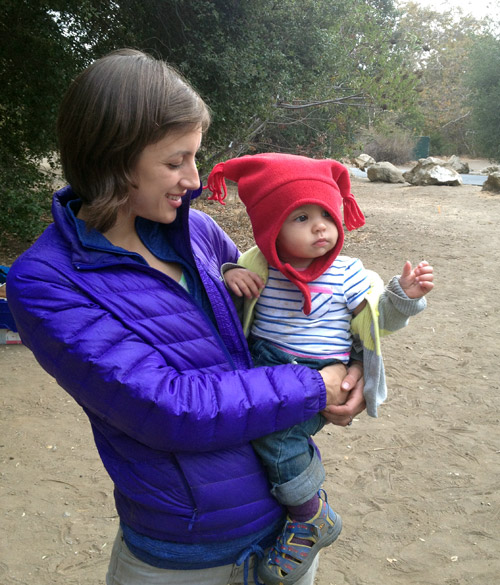 I know we're all focusing on health related New Year's resolutions, but if you're heading out for a camping trip anytime soon, you need to make these Ginger Lemon Smores. They're warming from the gooey hot marshmallows and extra spicy ginger cookies, so they're the perfect dessert for winter camping.
In a pinch, you could definitely buy ginger cookies, but the homemade ones really take these Ginger Lemon Smores to the next level.
Happy New Year to all of you! We wish you a healthy and happy year, full of great adventures. And if you're looking for a little extra luck, make sure you eat some black eyed peas today. If you need some inspiration, check out our recipes for New Year's Day Black Eyed Peas and BBQ Baked Black Eyed Peas.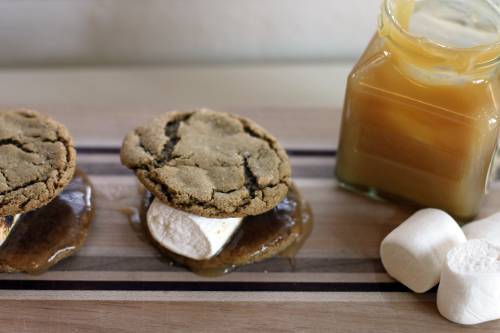 Ginger Lemon Smores
Prep Time / Cook Time
/
Activity Guide
Car Camping
Ingredients
2 cups flour
1 teaspoon baking powder
1/4 teaspoon salt
2 1/2 tablespoons ground ginger
1 teaspoon ground black pepper
1 teaspoon allspice
1/2 teaspoon nutmeg
pinch of cayenne
1/2 cup butter, melted
1/4 cup molasses
1/4 cup milk
1 cup sugar, plus about 1/4 cup extra for rolling
1 teaspoon vanilla
1 jar lemon curd
12 marshmallows
Tools
Large bowl
Medium bowl
Mixing spoon
Roasting stick
Baking sheets
Silicone baking mats or parchment paper
Knife for spreading
Method
At home, make the cookies:
Combine flour, baking powder, salt, ginger, black pepper, allspice, nutmeg and cayenne in a medium bowl.
In a separate large bowl, combine butter, molasses, milk, sugar and vanilla.
Add the dry ingredients to the wet and stir until just combined. Refrigerate the mixture for at least 45 minutes (the dough can be refrigerated at this point for a few days or frozen for longer).
Meanwhile, preheat the oven to 350° F. Line a baking sheet with a silicone mat or parchment paper.
Roll the dough into approximately 1 to 1 1/2 inch balls (you should have about 24). Roll each ball in sugar.
Bake for about 10 minutes, or until the centers are just set. Let the cookies cool on baking sheets for a minute or two, then transfer to wire racks or plates. Once the cookies have cooled completely, store in an airtight container.
At camp:
Spread a layer of lemon curd on a cookie. Top with a roasted marshmallow, followed by another cookie. Eat immediately.