My brother and I are addicted to some cheese from Trader Joe's- it's called Unexpected Cheddar. He comes over to visit about once a week and the last few times we've been eating it with crackers and wine for dinner. A while ago, when I thought I was out of crackers, I dug some out of the back of my pantry that someone gave me. They were thin and crunchy hazelnut crackers- a little bit sweet and almost like biscotti. Well, if I would have known how great they were they never would have sat in my pantry for months. I don't know what brand they were, but they were fancy looking and I've never seen them in any store. I've been thinking about them ever since.
So when I stumbled upon Dinner With Julie's recipe for Rosemary Raisin Pecan Crisps, I was really excited to try it. Her recipe is fantastic, and with some modifications I was able to adapt her recipe to make a version that was pretty similar to the mystery crackers.
These would be really good on any type of outdoor adventure. If you're going on a day hike you could bring some hard cheese and fruit to go with them. Or if you're feeling like a splurge, try them with Cowgirl Creamery's Mt. Tam brie.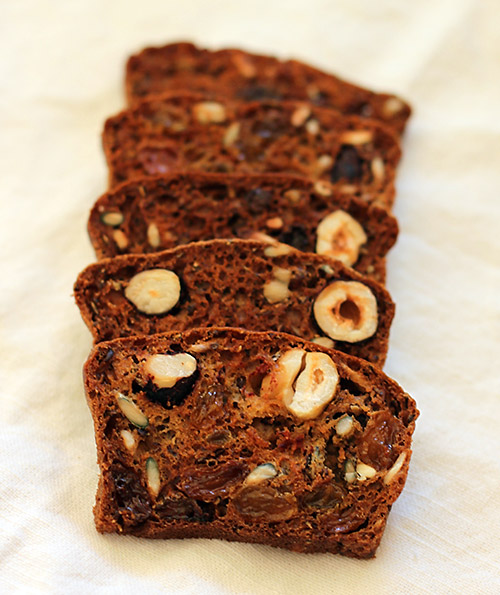 Hazelnut Raisin Crisps
Prep Time / Cook Time
/
Activity Guide
Backpacking, Bike Touring, Car Camping, Day Trip, Picnic
Ingredients
1 cup all-purpose flour
1 cup whole wheat flour
2 teaspoons baking soda
1/2 teaspoon salt
2 cups milk (almond milk works well)
2 tablespoons lemon juice
1/4 cup brown sugar
2 tablespoons maple syrup
1 cup hazelnuts
1 cup raisins
1/2 cup sunflower seeds
1/4 cup ground flaxseed
Tools
Cutting board
Large bowl
Mixing spoon
Large knife (preferably serrated)
Baking sheets
2 8"x4" loaf pans or four 5-3/4"x3-1/4" loaf pans
Method
Preheat oven to 350° F. Lightly oil either two 8″x4″ loaf pans or four 5-3/4″x3-1/4″ loaf pans.
In a large bowl, combine the flours, baking soda, and salt. Add the milk, lemon juice, brown sugar, and maple syrup and stir to combine. Add the hazelnuts, raisins, sunflower seeds, and flaxseeds and stir just to combine.
Pour the batter into the prepared loaf pans and bake for about 35 minutes, or until golden brown. Remove from the oven, cool for 5-10 minutes, and then remove the loaves from the pans. Cool completely.
Reduce the oven temperature to 300° F. Once the loaves are completely cool, slice them as thinly as possible. I've found that a large serrated knife works best, but a very sharp chef's knife will work as well. Place the slices on ungreased baking sheets and bake for 15 minutes. Turn them over and bake for another 10-15 minutes, or until nicely browned and crisp.