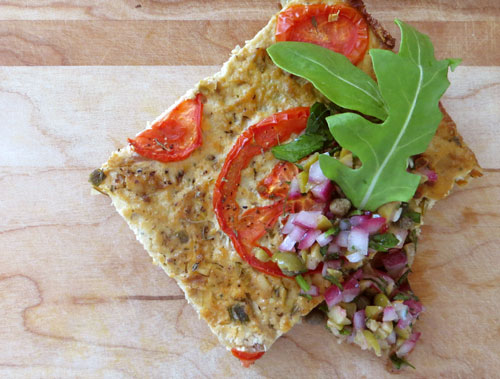 We hang out with a lot of vegetarians most of the time. Vegetarians love tofu, but most non-vegetarians seem to be terrified of it. I'm on the fence for the most part. Its not scary cooked, especially when you can get a good sear on the outside, but cold or scrambled is a different story. In those cases, its a "no thanks" from me.
This recipe appears to be quite frightening within the above stated tofu rules, but if you allow yourself to take a chance and taste it, you'll be floored. Though both cold and scrambled, the tofu slabs have so much flavor! And it's a safe, delicious, salty, umami type flavor that everyone loves. The olive salad adds even more to that.
Make these ahead of time, and just bring ingredients for assembly in camp. We ate these after a long hike that ended up being longer and colder than we anticipated (as usual). By the time we reached camp, it was late and we were famished. It was so nice to have something filling and ready waiting for us when we got there.
Happy Halloween!
Note: Recipe adapted from non-tofu version here and tofu frittata recipe adapted from here.
Herby Frittata Sandwich
Prep Time / Cook Time
/
Activity Guide
Car Camping, Picnic
Ingredients
3/4 cup chopped green olives
1/2 cup plus 2 teaspoons chopped fresh flat-leaf parsley leaves
2 tablespoons capers
2 tablespoons finely chopped red onion
1/2 teaspoons crushed red pepper flakes
1/2 cup olive oil, divided
2 tablespoons red wine vinegar
1/2 teaspoons sugar
1 onion, chopped
4 green onions, white part only, chopped
4 cloves garlic, minced
1 teaspoon salt, plus more to taste
pepper, to taste
1 12-ounce package firm tofu
4 tablespoons nutritional yeast
Ciabatta, focaccia or French bread
1 bag arugula (10 ounces)
mayonaisse (optional)
Tools
Cutting board
Food processor or blender
Knife
Large bowl
Skillet
9" x 12" baking dish
Method
At Home:
Toss the chopped green olives, fresh parsley leaves, capers, red onion, and crushed red pepper flakes with 1/4 cup of the olive oil, red wine vinegar, and sugar; season with salt and pepper. Store in spill-proof container.
Preheat oven to 325° F. In a large frying pan, sauteé the onions, garlic, and green onions in remaining 1/4 cup olive oil over medium heat for 5-10 minutes, stirring occasionally until onions are soft and translucent. Place in large bowl and set aside.
Blend tofu and nutritional yeast in a food processor or blender until well mixed. Mixture will be somewhat thick. Add the tofu mixture to the bowl of cooked onions and garlic, along with 1 teaspoon of the salt and mix well. Pour into a greased casserole dish. The frittata should be about ¼ to ½ inch thick.
Bake for 45-50 minutes, until top is browned, firm and cooked all the way through.
Allow the frittata to cool completely before slicing as this will help it set and firm up a bit more. Cut the frittata into even pieces and store flat in a container using wax paper to keep individual pieces separate.
At Camp:
Lightly toast some bread and assemble the sandwiches. Spread olive salad on the bottom slice and mayonnaise on the top slice. Layer frittata and a handful of arugula and enjoy!