Setting up camp isn't difficult, but it is worth taking time to do it right. If you set yourself up correctly, your evening will be seamless and relaxing. If not, you'll likely spend most of your time frustrated in the dark.
I'm splitting this into three posts to focus on each section of camp. Here I'll talk about setting up your camp sleeping area. In my next posts I'll talk about setting up your camp kitchen and setting up a camp hangout space. I'm including general rules that should apply to just about any type of camping in any type of climate. If you have any hints, even if they are more specific, please include them in the comments below. I'll also be highlighting some of our must-have gear at the end.
Step 1: Find Your Space
Pick out where to sleep before you do anything else. This spot matters. You want it to be flat and free of poky debris. You want it to be sheltered from weather, especially wind. Find the flattest area and drop all your stuff.
Step 2: Pitch Your Tent
Set up your tent with nothing inside. Place it in the position that looks the flattest, with a corner facing into the wind. Then get inside, and lay down. Take note of anything poking you through the tent floor, and pull it out. Also pay attention to any slight angle of the ground. You want your heads above your feets, and you don't want to end up steamrolling your neighbor, or rolling yourself out the door.
Once you've picked the perfect spot and angle, lay down the footprint, put your tent on top of it and stake it down. The stakes should be angled toward the tent at about 45 degrees. They should be hammered all the way into the ground so no one trips over them. Do this step even if you're sure the night will be windless. The wind will surely come if it senses any weakness.
Step 3: Set Yourself Up for Later
Do you live in an area that is prone to surprise rainstorms, dew, or any kind of condensation? Does it get really cold at night? If the answer is yes, or even maybe, you should put your rain fly on your tent. If you're sure the answer is no, you probably still should, but at least have it easy to find in the middle of the night.
Stuff all your stuff sacks together in your tent bag, and then put the rain fly inside it. Keep this in your tent, in the corner by your feet, just in case.
Then, pull out your sleep gear. Unstuff your sleeping bag and allow it to refresh in loft. If you have a self-inflating air mattress, roll it out and open the valve. If you have an air-only mattress, give it a few breaths so you don't have to do it all later. Fill the whole thing if you're willing.
Step 4: Be Ready for the Temperature to Drop
Go through your clothing, and pull out everything you will want to wear as it gets colder. Place these things on top of your sleeping bag for easy location in the dark. Also find your headlamp and put it somewhere you'll be able to find, like your tent attic, or just around your neck. And make sure there's a pair of clean, warm socks deep inside your sleeping bag. These should stay in your bag throughout your entire trip. Its nice to know you'll always have something snuggly and clean to put on, no matter what your feet went through during the day.
Now you're ready to move on to the rest of camp, and you'll be thrilled when its time to crawl in.
Roundup: A Few of Our Favorite (Sleeping) Things: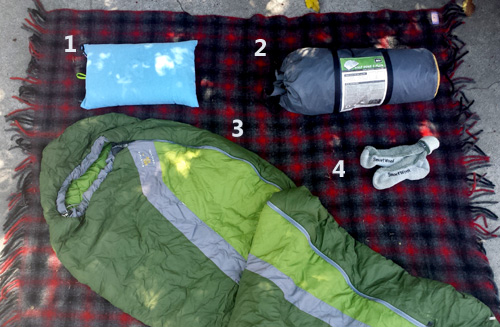 Underneath- Pendleton Blanket– Its always great to have a little extra warmth, just in case. Whether sitting around the campfire or just adding one extra layer of protection from the chilly side of the tent, this blanket should be your camping blanket. Its tough and its outdoorsy. It'll last you a lifetime.