If you've been playing in the outdoors for long, you probably know the basics of layering. It is much easier for your body to thermoregulate when you're wearing the right stuff, and utilizing the three layer system can help you customize based on your activity levels and the weather throughout the day. There are several types of material that you could use for layering, but merino wool is by far the best. It has been somewhat recent that I've convinced myself to swap out my synthetics for wool, but the change was so noticeable that I won't be going back. Here is a great infographic from Icebreaker that explains the benefits of wool compared with other fabrics, and how to properly layer it for a solid system that can take you anywhere.
Our friends at Icebreaker asked us if we'd like to gear test some of their clothing. The three of us split up and tested several different pieces of Icebreakers Merino Wool clothing in different environments recently, and have nothing bad to say.
Emily's Gear
I took the Icebreaker Apex Chute neck gaiter skiing in Big Bear last week. It was as variable a day of weather as there ever was. I started the morning skiing in a base layer and ended all bundled up in whiteout conditions. The Apex Chute was super warm, but I never had to take it off. It was perfect for the icy wind that hit me on the lifts, and wicked moisture quickly as I sweated my way down the slopes. I even turned it into a beanie when my lightweight one wasn't enough during our afternoon picnic at the top of the mountain. It was so nice to have such a lightweight item that could be so versatile.
The weather remained bitterly cold even when I moved on to a climbing trip in Joshua Tree a few days later. I took my Icebreaker Hike+ Heavy Crew Socks with me, and wore them for three days straight. They didn't get smelly (although my feet never smell), and kept me warm all day and all night. This sock is an essential that could go with everyone on every outdoor trip.
Aimee's Gear
I've been a fan of wool for years, primarily because it doesn't stink (unlike Emily, I do get stinky on occasion). I've been wearing the Icebreaker Sublime Tank to barre classes, and it's great because it's soft and not too warm. But the real reason I like it is I can leave it on after class and go straight to the park with the kids without feeling too stinky from my workout. With a light jacket over the top, it keeps my core warm but I don't get too hot when I'm chasing the kids around.
I also tested out the Villa pants. I've been looking for a new pair of black lounge pants and these fit the bill. I was afraid they'd be too warm but they're just right. They're so versatile–I can just wear them around the house, to chase the kids around the park, or to run errands. So much nicer than my beat up old yoga pants!
Mai-yan's Gear
I had the pleasure of testing out a full Icebreaker outfit on a recent trip to Joshua Tree and Death Valley National Park. After a whirlwind of activities including hiking, trail running, bouldering and sightseeing, I'm happy with the performance of the different pieces.
The tech tank was my go to piece. It was comfortable and it gave me just the right amount of coverage from the hot desert sun. I liked how I was able to move comfortably in it and how efficient the moisture wicking was.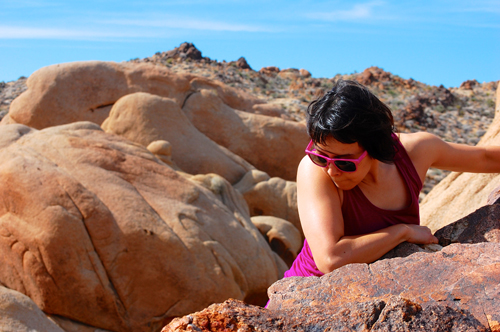 In the shade, it got a little cooler and I layered up with the Oasis Half-Zip Hoodie. This one wins in terms of style and fit. It hugged in the right places and the hoodie kept my neck warm from the breeze. The magenta accent zipper is a nice touch to contrast the purple and heather color of the shirt. This one is considered a base layer, but for Southern California winters, this works well as an insulating layer.
Finally, I tried out the Oasis leggings and ¾ Crew Stripe Tease socks in two different ways. I used them as my campsite loungewear and jammies, and also layered them with a dress while walking around sightseeing. From campsite to city, the different pieces felt and looked great. I love it when clothes are multi-functional- it means less packing! For colder climates, the leggings are thin enough to be used as long underwear under another pair of pants.
Overall, these are great quality clothes that adapt well for a variety of contexts. Yes, they are pricey, but definitely worth the investment if you want technical pieces that do what they say they will and also dress up for casual outings.
*Thank you to Icebreaker for sponsoring this post. All opinions here are our own.