My friend from Florida called me recently and said "I'm being transferred to Southern California-
somewhere between San Diego and Fresno. Where should I live?" I laughed and told him to be my neighbor, knowing that he would surely be transferred far away. But then he called back and said his job was 10 minutes from my house.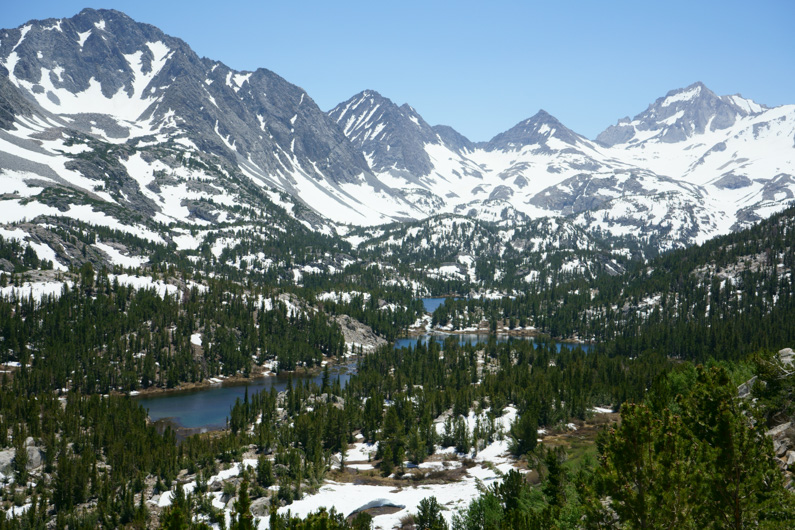 So he is actually my neighbor now, and we are friends again- after 10 years and lots of life changes. He came to California ready to explore, and had never been to the Sierra, so we jumped at the opportunity to be there for his first experience. I was lucky enough to get us permits to Little Lakes Valley, which is beautiful and (usually) a very accessible hike that too many people are on for me to be interested. There was SOO much snow this time, though, that it kept a lot of the crowds away. Hiking across miles of sun cups (little cups in the snow everywhere that you either have to balance on the rim of or fall into, twisting an ankle) was tiring, but it was gorgeous. We explored the whole basin and camped next to one of the only unfrozen lakes.
We spent the night before the backcountry portion of the trip car camping as usual, and cooked up this quick and easy Italian Orzo Soup. It was a nice warming dish that was very easy to execute after a day of traveling and planning backpacking logistics. I highly recommend it by the campfire.
One little note: the logistics of both car camping and backpacking in the same trip are tricky, especially in bear country. We always think about being minimalist and lightweight with our backpacking food, but are luxurious with car camping food, thinking it doesn't matter. Our cooler didn't fit in the bear locker at the trail head this time, so we had to scramble to figure out how to store it all in a bin and bags to fit inside the lockers instead. It is very important not to leave food in the car, so plan accordingly.
Italian Orzo Soup
Prep Time / Cook Time
/
Activity Guide
Car Camping
Ingredients
1 medium red onion, diced
1 cup celery, diced
2 Italian sausage links, sliced
3 garlic cloves, chopped
1 cup orzo
2 tablespoons olive oil
2 ounces tomato paste
1 bouillon cube
1 tablespoon Italian Seasoning
1 tablespoon Oregano
1 teaspoon salt
1/2 teaspoon pepper
4 cups water
Tools
Cutting board
Knife
Measuring spoons
Medium pot
Mixing spoon
Stove
Method
In a pot over medium-high heat, add the sausage and cook until browned, about 5 minutes. Set aside. (If you use a vegetarian sausage substitute, add 2 tablespoons olive oil first)
Heat oil, and add the onion and celery. Cook until soft and beginning to brown, about 5-7 minutes.
Add garlic and cook for about 1 minute.
Add the orzo, spices, and tomato paste, and toast the orzo a bit, about 3 minutes.
Add back in the sausage, as well as the bouillon cube and the water.
Bring to a boil, then reduce heat to simmer. Cook until orzo is tender, about 15 more minutes.