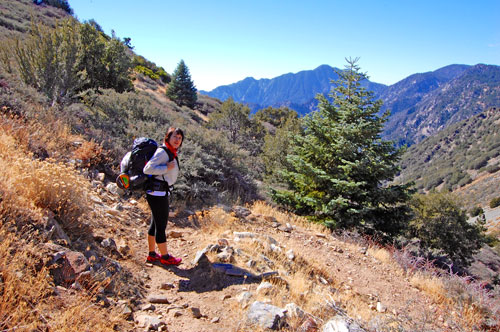 Sometimes an urge comes over me, and I have this intense need to get out and sleep under the stars. I suddenly cannot stand the idea of getting into my car and navigating the city, or anything that has to do with my daily routine. When this happens, I know it's time to take a timeout and reset.
For this particular trip, the criteria was – where is the closest, easiest place I can get to immediately? A quick search on the internet landed on Little Jimmy Trail Camp in the Angeles National Forest. 1.5 hour drive out of Los Angeles and 2 mile hike in – sold!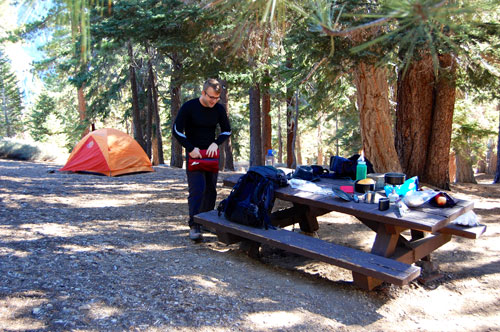 The beauty of an overnight backpacking trip is that you can be spontaneous. Don't overthink it – just bring your basic sleeping gear, a warm layer, a headlamp, a simple meal (or even just leftovers from the fridge) and get outside.
This is a great spot for a quick getaway, to try backpacking for the first time and to test out new gear. Take in the piney breeze and twinkly stars. Your To Do list can wait until tomorrow.
Little Jimmy Trail Camp
Location
Angeles National Forest, CA
Website
Activity Guide
Backpacking, Hiking, Peak Bagging
General Info
Park at the Mt Islip saddle parking lot and then cross the highway to the trail head – there is a sign with the camp name. You will need 2 National Forest Adventure Passes ($5 day pass) if you don't already have a yearly pass ($30). Find a place to purchase one here.
Amenities
Picnic Tables
Pit Toilets
Fire Pits
Insider Information
This trail is part of the Pacific Crest National Scenic Trail, and it is indeed quite scenic.
It's a short steep hike in the beginning which then flattens out through a meadow and then becomes shaded under the canopy of big pine trees.
It's proximity to civilization makes it a favorite for boy scout groups. Just wait until their bedtime for your quiet moment of reflection.
If you have extra time and want to bag some peaks, you can get to the top of Mt Baden-Powell if you keep going 6 miles pass camp. Another option is the 10 mile RT hike to the top of Mt Lewis from the Islip saddle parking lot.