We got chickens this year, but unfortunately they are not quite old enough to lay us Easter eggs yet. They have definitely gotten big though, and Tony is getting the chicken coop ready for them to start their lives outside of the reptile tank within the next week. Tony has been substitute teaching for a middle school in town called The Farm lately, and they have a small store that sells locally grown food. He first came home with a package of duck eggs, which I thought were quite large, but then he showed up with goose eggs yesterday! They are huge! I haven't mustered up the courage to eat one yet- I'm not even sure I could crack one open because the shell feels very thick and heavy.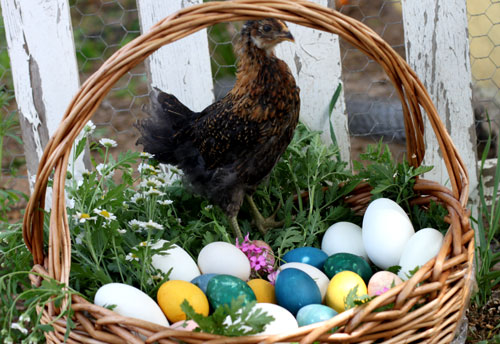 Aimee came over today with (chicken) eggs that she dyed using natural dyes, and I have never been so impressed with colored eggs before. I no longer see the point of buying artificial colors to do this, especially since reading about the health hazards potentially associated with them. Supposedly some people don't even eat their dyed eggs, which I think is a crazy silly waste-especially since the egg actually turns pretty colors too, which I love. These eggs are more brilliantly colored and you can feel good about eating them, because the dyes are made using items such as red cabbage (the blue- can you believe it!) and turmeric. Since Easter happens to fall on the same weekend as Earth Day this year, we figured this would be a great way to celebrate both in one fell swoop. Even better if you can get local eggs too.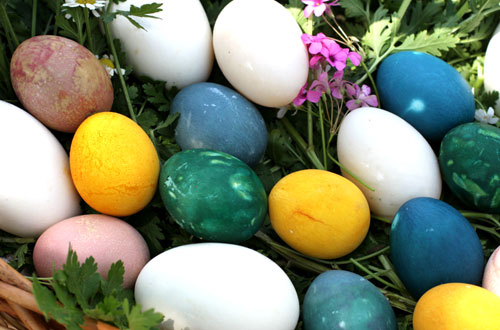 Speaking of Earth Day, we wanted to let you know that we'll be helping out the San Gorgonio Wilderness Association with their Mill Creek cleanup on May 14. If you're interested in participating, contact us and we'll get you the details. Otherwise, you can still help out by donating some money to the cause by clicking on our new donation button. We'd like to use the money to provide Dirty Gourmet snackies for the volunteers.
Natural Dyed Easter Eggs
Prep Time / Cook Time
/
Activity Guide
Car Camping, Picnic
Ingredients
12 white eggs
1/2 head purple cabbage
1-2 large beets
1/4 cup turmeric
water
Tools
Cutting board
Knife
Stove
3 medium pots
6 tall glasses or jars
Method
Place eggs in a pot and pour enough cold water over the eggs to cover. Cover and bring to a boil over high heat. Turn off the heat and let the pot sit with the cover on while you prepare the dyes.
Roughly chop the cabbage and place it in a pot along with a few cups of water (enough to cover the cabbage). Roughly chop the beets and place them in another pot along with a few cups of water (enough to cover the beets). Place the turmeric and a few cups of water in the third pot. Bring each of the pots to a boil, then reduce the heat to a simmer. Simmer for about 30 minutes. Add a tablespoon or two of vinegar to each of the pots.
Place two (or more) eggs in each glass or jar. Pour enough dye into the glasses to cover the eggs. If you leave the vegetables in, you'll end up with pretty but splotchy eggs. Mix and match the dyes to achieve different colors:

red cabbage = blue
turmeric = yellow
beets = pale pink
1 part red cabbage + 2 parts beets = purplish blue
1 part red cabbage + 1 part turmeric = teal
1 part turmeric + 2 parts beets = yellow-orange

Let the eggs soak in the dye for several hours or overnight. The longer they soak, the brighter the colors will be. Now go have an easter egg hunt!