We've been talking about a snow backpacking trip for a while. At the beginning of the month, I was invited to go to Yosemite to do just that with my good friend Adam. We thought this would be the perfect opportunity for everyone to meet up, and we got a lot of people on board early. As the date approached, however, the weather factor began to look grim. Every day that we checked, there was more and more likelihood for the whole weekend to be filled with snowstorms. One by one, plans changed, and by last Thursday, only three of us were still planning to go. And even we weren't sure about the whole thing.
Adam, his girlfriend Megan, and I decided to meet up in Mariposa Friday night and assess the situation from there.I've recently been "funemployed" so driving 6 hours north into a snowstorm to assess the situation sounded like a great idea. I packed up and left SoCal Friday afternoon alone. The drive was beautiful, and the weather was sunny the whole way. The rain didn't start until we officially drove into Yosemite and set up at Camp 4 Friday night. But it was still just rain, and just a little. So on Saturday, we hiked. We packed up too much weight for one night and headed straight up to the top of Yosemite Falls. It was a short hike of only 3.5 miles, but you gain 3000 feet of elevation in that distance. By the time we got to the top, I was tired and it was snowing. We decided to continue towards North Dome, but after realizing how late it was, and that we'd probably only make it to a spot exposed on a snowy ridge, we headed back down into the sheltered woods near the river. That turned out to be a great decision. We'd met an expedition of snowshoers earlier who were headed in the same direction. They continued on that path and spent the night on the snowy ridge, and they claimed to have seen no view the entire time. Though we got our share of snow, it was broken up nicely throughout the night and the next morning. We got a good shot of the moon for a bit, and were warmed by the sun while we cooked up some awesome, Dirty, Oatmeal Pancakes for breakfast.
We have been promising dirty versions of recipes for a little while now, and I'm really excited to finally get one out. The original version of these oatmeal pancakes is really delicious but not suited to backpacking since it has a few perishable ingredients. These dirty oatmeal pancakes were easy and hearty, almost as good as making them from scratch, and it was really nice to have ingredients that double as snacks on the trail. The recipe for the Dried Fruit Compote is exactly the same (although for this trip we added a sprinkle of Jello in place of the sugar we forgot). Also, one advantage of snow camping is that snow makes washing pots very easy.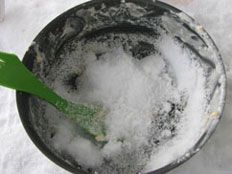 After our oatmeal pancake breakfast Sunday morning, we never saw the sun again. The snow level dropped all the way into Yosemite Valley, leaving us truly cold and fully soaked through by the time we got back to the car. We were happy that our only meal of the day had been so substantial and delicious.
Oatmeal Pancakes with Fruit Compote- Dirty Version
Prep Time / Cook Time
/
Activity Guide
Backpacking, Bike Touring, Car Camping
Ingredients
1 cup dried fruit, chopped
2 tablespoons brown sugar
3-4 cups water
1/2 cup old fashioned oats or 1 packet of instant oatmeal
3/4 cup "Complete" Pancake mix (just-add-water))
1 teaspoon cinnamon
1/4 cup chopped pecans
2 tablespoons oil for skillet if not non-stick
Method
At Home
Combine dried fruit, & sugar in a zip-top bag. In a large zip-top bag, combine oats, pancake mix, cinnamon and pecans (you will need the extra room to mix the batter).
At Camp
Pour 2-3 cups of water in pot along with fruit compote ingredients.
Set the stove to medium-low heat and simmer, semi-covered until mixture becomes thick and syrupy. Cover and set aside.
While fruit compote simmers, pour 1 cup of water inside the zip-top bag containing the pancake batter ingredients. Seal bag and mix the ingredients by gently kneading and squeezing them together.
Once the compote is ready, cut one of bottom corners of the zip-top bag with the pancake batter and squirt 1/4 of contents into a lightly oiled skillet on medium high.
Let pancake cook until bubbling on top. Flip and let cook until golden brown. Repeat with the rest of the batter.
Top the pancakes with fruit compote and eat!