We're going to Banff in a few weeks, and I'm starting to get really excited about the possibility of seeing grizzlies, moose, caribou, wolves, and the insane wilderness of the Canadian Rockies! My excitement is reminding me that I'm in charge of the food for 4 people, and I better get prepping.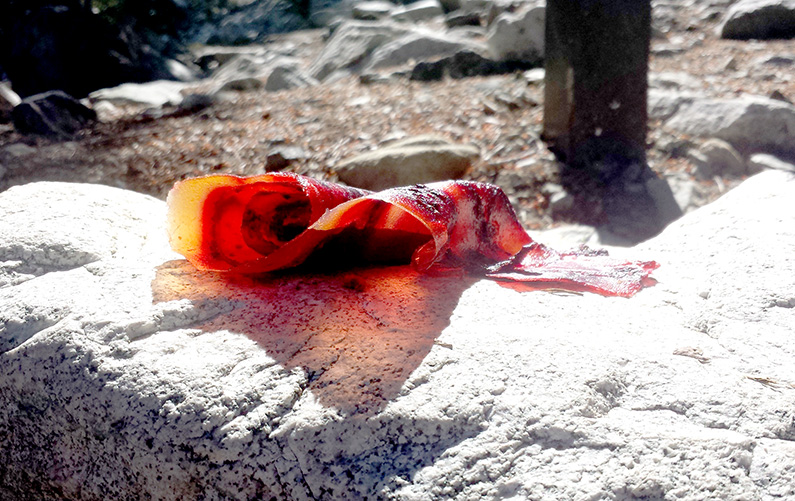 It's always motivating to have a trip coming up. We've been hiking and running pretty consistently to get in shape for all the activities we plan to cram into one little week. This week, we spent a morning running in the local mountains, and we stumbled upon blackberry bushes growing right up against the trail. We ate a few on the way out, and I focused on finishing my water bottle so I'd have storage for more on the way out. It was a perfect running morning, because it was gray and rainy. We rarely get these, so I was really excited to take advantage of it. It's amazing how much less whiny I am on cool days.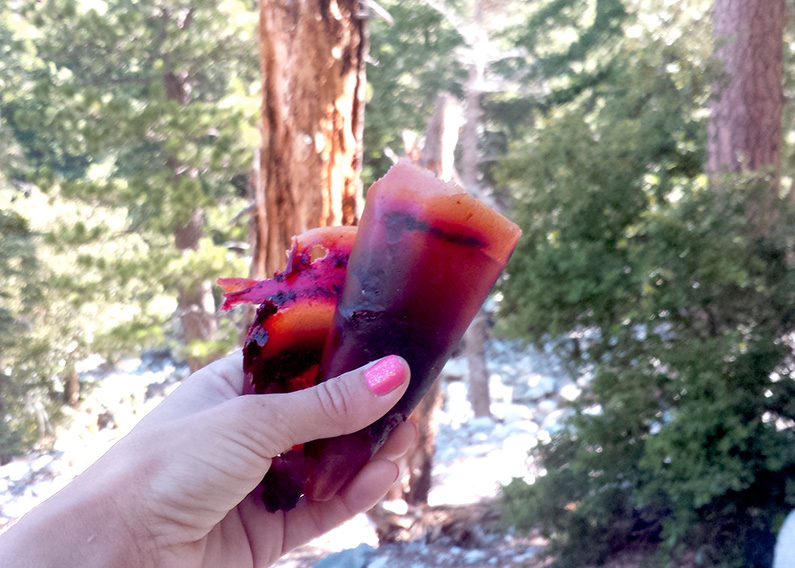 Though we sacrificed a bit of fitness to stop (for a while!) and pick a whole bunch of blackberries, it was worth it. We got back to the car stained red, scratched up, and quite happy. The day stayed rainy, so we stayed in the kitchen. I taught Dutch Oven Cooking basics at REI the night before, and had overpurchased peaches for the cobbler I made, so I pureed them with the blackberries, and dried the whole thing into a big roll of fruit leather.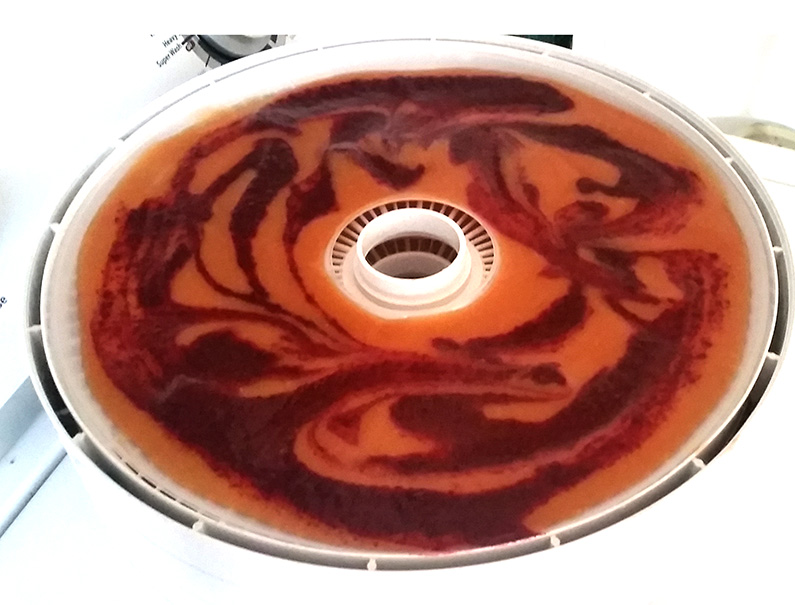 It was very easy to make fruit leather, but I did make a small mistake. I wanted to show off the contrast between peaches and blackberries, so I swirled the two purees together without mixing them fully. This turned out beautiful, but created inconsistencies in the thickness of the puree while in the dehydrator. It dried unevenly, so I had to peel chunks out as they dried and leave the rest to continue. I think the swirl would still be pretty if I'd done a bit better job of evenly distributing the puree.
I'm going to try to get this fruit leather to last until Canada (August 1), but I don't see how that's going to be possible. If it does, I'll give you a full report about the perishability of the product.
Blackberry Peach Fruit Leather
Prep Time / Cook Time
/
Activity Guide
Backpacking, Day Trip
Ingredients
About 12 peaches, pitted, peeled and chopped
2 cups blackberries
1/4 cup sugar
Juice of 3 limes
Tools
Cutting board
Food processor or blender
Knife
Large pot
Measuring cups
Small pot
Strainer
Dehydrator or Oven
Baking sheets (2) or fruit leather dehydrator trays (3)
Parchment paper or silicone baking mat
Method
Puree peaches in blender until smooth.
Place peaches in pot with half the sugar and juice of two limes. Heat on medium until puree has thickened slightly, about 10 minutes
Meanwhile, puree the blackberries (no need to rinse the blender from the peaches). Pass puree through a fine-mesh sieve to remove any seeds if desired.
In a small pot, add blackberries, remaining sugar and lime juice. Heat on medium until puree is slightly thickened, about 5 minutes.
On the fruit leather trays of your dehydrator, or a baking sheet fitted with parchment or a silicone mat, pour the peach puree into an even layer.
Spoon the blackberry puree into the peach puree. Then smooth the whole thing over to create an even layer of puree.
Dehydrate at 140 degrees for up to 8 hours, checking occasionally. Remove when fruit leather is still a bit tacky to cool.
Peel off fruit tray (in one piece, if you can!). Slice in strips and roll up.