It's birthday month again. This year, there's much more competition-I mean celebration-than usual. New roommates, new friends, old friends willing to travel for joint birthday parties, all within the last and next few weeks. Mai-yan and I normally celebrate ours together (and no one else's), but this year she's turning 30, and that's way too big deal a number for Emily to compete with. I'll be sharing mine with my friend Adam instead, and we gave Mai-yan her own whole trip backpacking in the Golden Trout Wilderness last weekend.
We were told the weather would be in the 70's during the day and 30's at night, so we packed accordingly, and weren't afraid to bring a bunch of hardy fresh vegetables and 5 (yes 5) blocks of cheese with us. By the time we reached the trailhead the first day, however, we knew we'd been duped. It was at least 90 already. We embraced the surprise warmth, and I put on my cute sleeveless dress for the hike.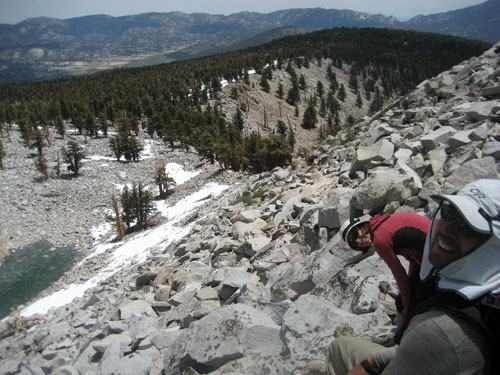 By lunchtime, the issues that would plague us for the entire four day weekend had begun. First (and worst)- mosquitoes! I moved from Florida specifically to get away from the monsters, and these were even worse than the east coasters. Worse even than the Everglades, since they were still capable of swarming us at 11,000 feet up. We each went through our own mini panic attacks all weekend, and couldn't hike without a branch used like a horsetail. With my big heavy backpack, I felt more like a rhino than a horse, though. I couldn't bring myself to put on my warm fleece in that weather for most of the time, so I endured an impressive number of bites. Nick, Kismat and I looked like we had a serious (and probably contagious) skin disease by the end of the trip.

The second issue was the food. We love to stress how possible it is to bring fresh ingredients with you backpacking, but this was the hottest weather for the longest duration we've dealt with in the last two years, and yes- fresh food does go bad quickly in hot weather. The first 24 hours were fine, and we filled our bellies with as many cucumbers and bell peppers as we could. By the second morning, though, there was a distinct "limy" taste to them, and we were forced to carry them with us the rest of the trip. Along with the corn for my shepherd's-pie-turned-mashed-taters-and-gravy. Even the kale didn't make it past the third day. But you know what we ate a lot of? Cheese! Slimy, yet satisfying. Luckily it was all of the hard variety (originally), and I can't guarantee to you that it was the safest decision. But we were happy about it.
This time, we're going to stick to posting a truly all-weather friendly backpacking recipe that impressed both Nick and I, who have been known for our bad attitudes towards couscous. It's slightly sweet like an oatmeal, but much less sweet than the typical backpacking breakfast options, as well as quick, filling, and non-perishable. Hope you had a great start to our big birthday month and also that you'll be celebrating with us throughout the rest of it- outside!
Pistachio and Raisin Breakfast Couscous
Prep Time / Cook Time
/
Activity Guide
Backpacking
Ingredients
1/2 cup couscous
1 1/3 cups water
1/3 cup dried milk
1 tablespoon raisins
1 tablespoon salted shelled pistachios, chopped
2-3 teaspoons sugar
A pinch of cardamom
Method
At Home:
Combine couscous, dried milk, raisins, pistachios, sugar, and cardamom in a zip-top bag.
At Camp:
Boil the water.
Stir the ingredients into the water well, remove from heat, and leave covered (without peaking) for 5 minutes. Serve hot.