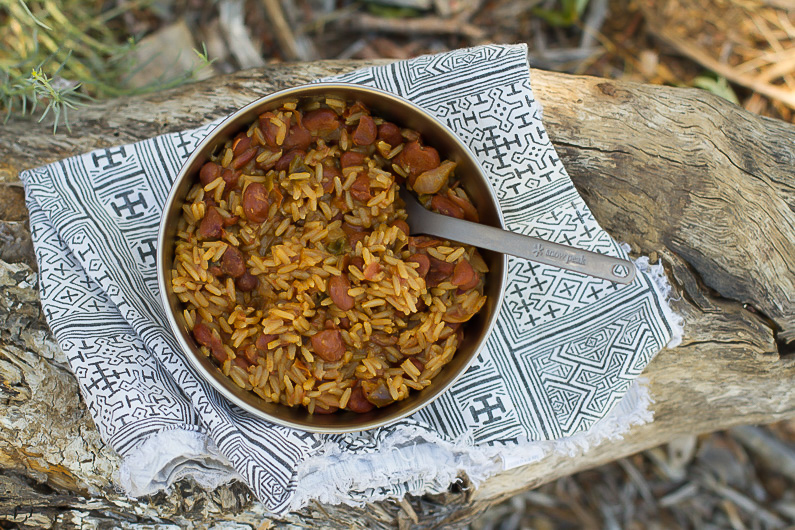 Every year, for their vacation, my parents go on a backpacking trip to the Golden Trout Wilderness in the Sierra to do volunteer trail work. It's become my job to feed them for this annual trip, and last summer, I came up with this Red Beans and Rice recipe.
I've been using dehydrated bean flakes for a long time, but I only recently discovered whole dehydrated beans. I had ordered a sampler pack of dehydrated veggies to stock my backpacking pantry, and these dehydrated whole red beans were in the pack. I didn't have high hopes for them, thinking they'd take forever to rehydrate, but they work so well! I love them because they have more texture than the bean flakes, something I'm always looking for in my backpacking meals.
This is a one pot meal, and it's got lots of protein and fiber, both of which can be difficult to come by in the backcountry. Definitely bring a little bit of vinegary hot sauce (like Crystal or Tabasco) or even better, some pickled peppers (such as pepperoncinis) along with you.
Specialty Ingredient Sourcing:
Dehydrated whole red beans
Dehydrated bell peppers
Tomato powder
Red Beans and Rice
Prep Time / Cook Time
/
Activity Guide
Backpacking, Bike Touring
Ingredients
1 cup instant rice
1 cup dehydrated red beans
1 tablespoon dehydrated bell pepper
1/8 teaspoon cayenne
3/4 teaspoon salt
1/2 teaspoon cumin
2 tablespoons tomato powder
1 tablespoon olive oil
1 shallot
3 cups water
Tools
Cutting board
Knife
Medium pot
Mixing spoon
Stove with simmer control
Method
At Home:
Combine rice, red beans, bell pepper, cayenne, salt, cumin, and tomato powder in a zip top bag.
Package olive oil in a leakproof container. Leave the shallot whole and unpeeled.
At Camp:
Peel and chop the shallot.
Heat the oil in a pot and saute the shallot until softened and lightly browned.
Add the water and bring to a boil.
Stir in the bean and rice mixture. Cover and remove from heat.
Let stand for about 5 minutes or until water is absorbed and beans and rice are softened.
Serve with hot sauce and/or pickled peppers.