I finally broke down and bought a dehydrator. I've played around with dehydrating food in the oven and that works fine most of the time, so for the longest time I couldn't justify buying yet another kitchen appliance. I also had my heart set on an expensive one, so that further delayed my purchase.
I never imagined that it would be something that I use so much, but we've got this thing running at least three days a week! We've been trying to eliminate junk food from our diets and my dehydrator has become my secret weapon. My kids LOVE dehydrated fruit and kale chips. The stuff we make in the dehydrator is so much better than what we can buy at the grocery store and much more affordable (especially in the quantities we eat!).
The reason I bought the dehydrator though, is so I could get into making backpacking food. Dal was what I was most excited to try dehydrating, and I'm so happy with how it turns out. In this recipe, I add sweet potatoes and some kale for an extra boost of nutrition, because I always feel like we're lacking veggies on the trail.
Before you dehydrate this, make sure that the sweet potatoes are broken down enough so that there aren't huge chunks of them in your dal. If you start with a small enough dice, they should break down pretty quickly, but if it seems like the dal is pretty chunky anyway, you can mash it up a bit with a potato masher. This will prevent chewy bites of sweet potato in your rehydrated dal.
When the dal is dehydrated, it will be crumbly. You can just throw it in a bag. Don't worry about breaking it up in small pieces or blending it.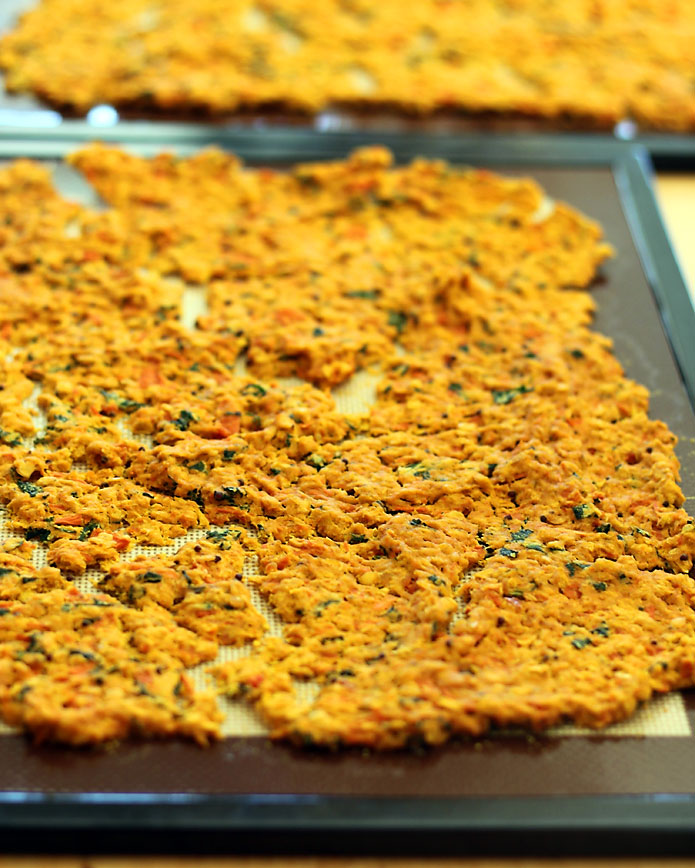 If you're car camping, you don't have to dehydrate this. You can make it at camp or even make it at home ahead of time and freeze it. Then use it as an ice pack in your cooler for the first day or two of your trip.
Red Lentil Sweet Potato Dal
Prep Time / Cook Time
/
Activity Guide
Backpacking, Bike Touring
Ingredients
1 tablespoon olive oil
1 cloves garlic
1-inch piece of ginger, grated or minced
1/2 teaspoon mustard seeds
1/2 teaspoon ground coriander
pinch of red chile flakes (or more to taste)
1/4 teaspoon turmeric
1/4 cup finely chopped tomato
1 sweet potato (about 6 ounces), peeled and diced small
1 3/4 cups water, plus additional water for rehydrating
1/2 cup red lentils, rinsed and drained
1 cup finely chopped kale or spinach
1/2 teaspoon salt
Tools
Cutting board
Knife
Medium pot
Stove
Vegetable peeler
Dehydrator
Parchment paper or nonstick dehydrator sheets
Zip-top bag or other container
Method
At Home:
Heat oil over medium heat in a medium pot. Add the garlic and ginger and stir fry for about a minute. Add the mustard seeds, coriander, red chile flakes and turmeric. Stir fry for about 30 seconds or until fragrant. Add the tomatoes and cook for a minute or two, until the tomatoes break down a bit. Add the sweet potatoes, water, and red lentils. Increase the heat to high and bring to a boil. Then reduce heat to medium-low and simmer, partially covered, for about 20 minutes, or until the sweet potatoes and lentils are tender. Add the kale or spinach and the salt. Continue cooking for about 5 more minutes. Taste and add additional salt and/or chile flakes.
Let the dal cool slightly (just so it's easier to handle), then spread on a parchment-lined (or use a nonstick dehydrator sheet) dehydrator tray. You may need to use a couple of trays depending on the size of your dehydrator.
Dehydrate at 135 degrees F for about 8 hours, or until completely dry.
Package dehydrated dal in a heavy duty zip-top bag or container of your choice.
At Camp:
Place dehydrated dal in a pot with 1 1/2 cups water and let it sit for about 5 minutes. Heat dal on a stove until hot and fully rehydrated. This should only take a minute or two. Serve hot with rice or flatbread.