Red Rock National Conservation Area is my original stomping ground. Its where I was taught to love the outdoors. It is where I got the idea that playing outside doesn't have to be a long-planned-for event. It can be something you do with your family every weekend, or even a quick escape after work. The proximity of Red Rock to The Strip and the diversity of activities available make it shocking that the majority of residents and tourists have never even seen it up close.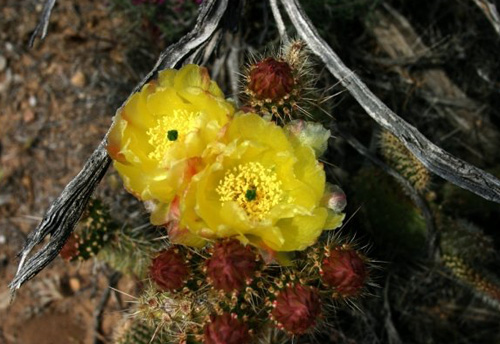 My dad is Red Rock's biggest fan. He's been hiking out there for years, and picked up right where he left off when he moved back to Las Vegas after a ten year hiatus. He's proof that no matter how many times you've been to the same place, there is always something new to explore. The pictures posted here are all from him. Still, though, there are places in the park I've been to that he hasn't, and there are spots neither of us have seen.
If you're a resident of Las Vegas or not, Red Rock should be on your list of places to go. Hike the many trails in or around the park. Scramble along the red sandstone rock slabs at "the quarry". Drive the scenic loop at sunset on your way to a night out on the town. Boulder low at Craft Boulders or climb ten pitches high. Run on the Grand Circle through the center of the park, or go in search of the little stream in Icebox Canyon. See pictographs and flowers and wildlife like vibrant-colored western tanagers or burros.
Look very closely in the photo above. There's more to it than the beauty of the snow on the rocks.
Red Rock National Conservation Area
Website
Activity Guide
Hiking, Climbing, Scenic Driving, Wildlife Viewing
General Info
Red Rock is conveniently close to the exciting city of Las Vegas. It is a wonderful getaway if you've had enough of the lights, or a great place to explore if you have avoided the city because you thought it only offered lights. The park offers a variety of activities, good for a variety of interests and skill levels.
Amenities
Designated campsites 2 miles away
Vault toilets
Water faucets with drinking water
Insider Information
Stay in a hotel on The Strip instead of the campground, which isn't the most scenic of campgrounds, or go into the backcountry.
There is plenty of hiking outside the paid area of the park. Park in any of the dirt turnouts off the main road near the scenic loop, and you'll see several trails leading into the canyon. Many offer climbing, streams, and maybe artifacts or wildlife views if you're lucky.
The scenic loop is lovliest at sunset, but if you're there earlier or later than the heat, try running or biking it (carefully).