How exciting to have Independence Day on a Saturday this year! Hopefully that means that all of you will be able to escape to somewhere beautiful and high up so you can see a fabulous fireworks show and enjoy a warm summery evening with your friends.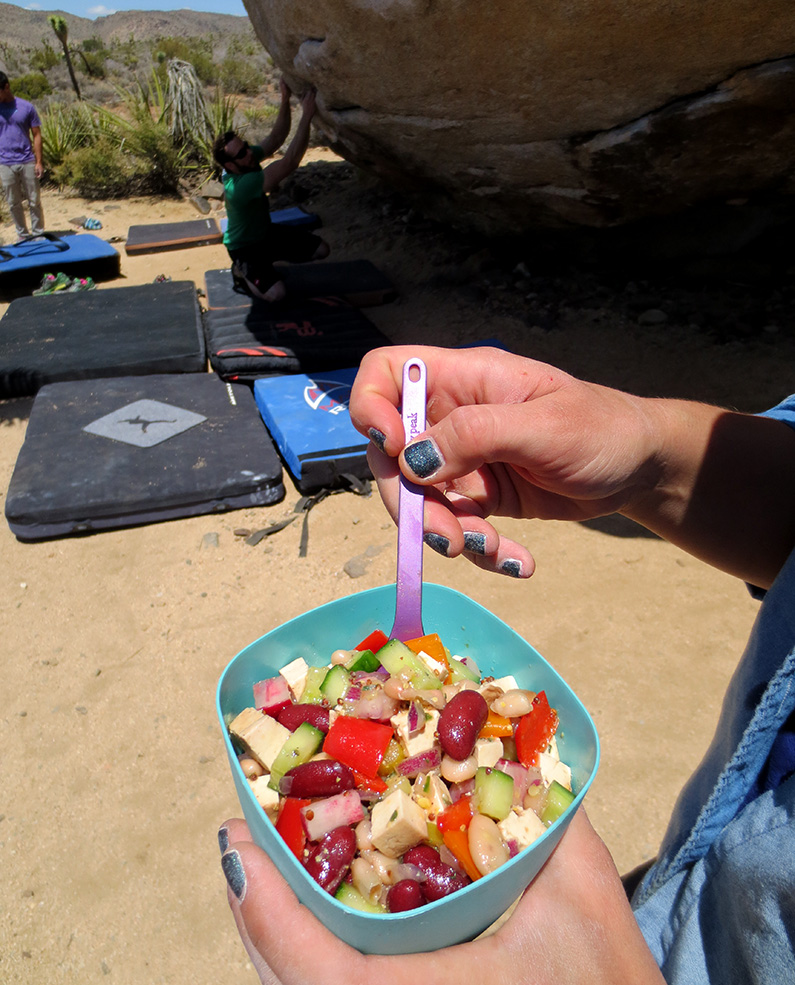 Here is a recipe that's perfect for a day trip into the local mountains, or to take with you to the neighbor's BBQ. It's festive and colorful, requires no cooking in a sweltering kitchen, and won't take any time away from your activities for prepping or eating. Just open your container, grab your spork, and dig in.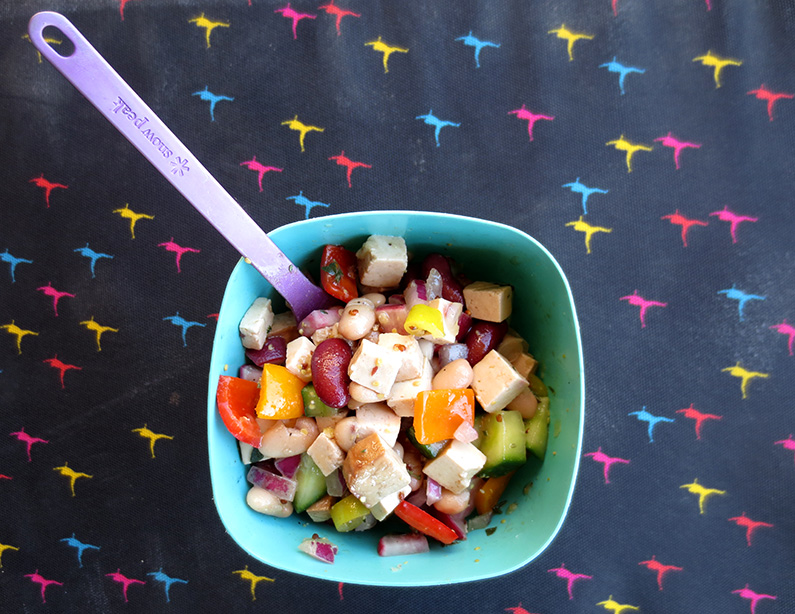 Happy Independence Day!
Red, White, and Bean Salad
Prep Time / Cook Time
/
Activity Guide
Car Camping, Day Trip, Picnic
Ingredients
1 can kidney beans, drained and rinsed
1 can white beans, drained and rinsed
1 cucumber, diced
2 bell peppers, diced
1/2 red onion, diced
3 radishes, diced (Sparkler Radishes to be festive!)
1 tablespoon fresh herbs (I used oregano and thyme), minced
--
1/4 cup red wine vinegar
1 clove garlic
1/4 olive oil
1 tablespoon whole grain mustard
2 teaspoons sugar
Kosher salt
Freshly ground pepper
Tools
Can opener
Cutting board
Jar
Knife
Large bowl
Measuring spoons
Mixing spoon
Small bowl
Whisk
Method
Combine all vegetables and beans in a large bowl. Mix together.
Paste the garlic clove and kosher salt together. Do this by mincing the garlic with the salt. As it starts to sweat, use the side of the knife to press the garlic into the salt. Continue until you have a garlic paste.
Place garlic paste in a small bowl with mustard, sugar, vinegar, and herbs.
Whisk in olive oil slowly until you form an emulsion.
Pour the vinaigrette over the vegetable bean mixture. Stir to combine.
Transfer bean salad to a jar or other reusable container.