Welcome to Dirty Gourmet! This is the endeavor of three girls that have been lucky enough to spend most of the last 4 months camping, cooking, and creating this blog. After several camping trips, we have already developed a strong team with a surprisingly high level of productivity for a group of silly girls. We now finish each others' sentences and even accidentally purchased identical gifts for each other this Christmas.
For the ringing in of the New Year, we have invited our friends beach camping to celebrate the launch of this site and to show off a few of our favorite creations. Here's the full menu:
Roasted Cream Cheese Stuffed Peppers
Kale and Black Eyed Pea Salad
Citrus Spiced Mulled Wine
Sweet Potato Corn Chowder
Smöres-gåsbord (the ultimate smores buffet)
We are unveiling only one recipe at a time. In the coming days, we will be posting the other recipes, and should have some fun photos and stories to share from the party.
It is time for those New Year's resolutions, and one should definitely be eating great food no matter where you may find yourself (hopefully somewhere exotic and inspiring)! Our goal is to be a resource for you along the way.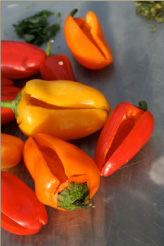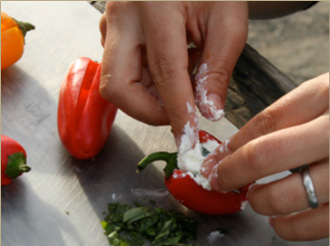 Our first recipe is a fun appetizer version of stuffed peppers. They are the epitome of what Dirty Gourmet is about, throwing dainty fresh finger foods directly into the campfire. This is a recipe that is versatile enough for almost any setting. It can be made with very few ingredients and requires only a pocketknife as a utensil. The use of the campfire for roasting peppers brings out an otherwise unobtainable smokiness that will surely satisfy the need for munching during the always-too-long wait for dinner.
Roasted Cream Cheese Stuffed Peppers
Prep Time / Cook Time
/
Activity Guide
Car Camping
Ingredients
16 mini bell peppers
8 ounces cream cheese
1 tablespoon fresh herbs, such as basil, sage, or thyme
3 tablespoons extra-virgin olive oil
1 teaspoon salt
1/2 teaspoon pepper
Tools
Campfire or grill
Foil
Knife
Plastic bag
Method
Cut a slit lengthwise in each pepper down 1 side.
Combine cream cheese and herbs in a zip-top plastic bag. Cut off 1 corner of the bag. Pipe cheese mixture into each pepper to fill with as much of the cream cheese mixture as will fit. Alternatively, you can combine the cheese and herbs in a bowl and stuff the peppers with your fingers or a small spoon. Press the slit edges together.
Center the filled peppers on top of a piece of foil, drizzle with a bit of olive oil and season with salt and pepper. Fold over the foil to create a packet, making sure to seal the seams tightly.
Place the foil packet on a grate over the fire or directly on the embers. Watch them closely, making sure to rotate the packets often. Roast the peppers until they're lightly browned and the cheese is hot.