When we take a vacation, we try not to plan every day of it. We took ten days off for our recent 4 day backpacking trip. That allowed us to adjust plans at will, and take little side trips whenever they presented themselves. We didn't even leave our house the day we expected to, which actually gave us a chance to make a few more stops than planned on the way up north.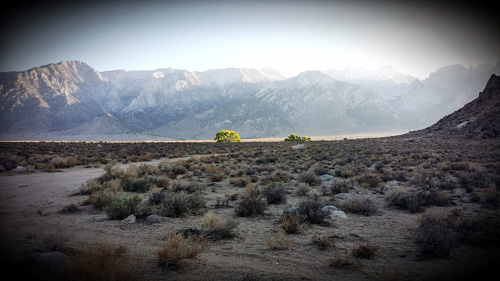 We spent our first night in the Alabama Hills and got some climbing in the next morning. Then we stopped at Mono Lake for a picnic among "the tufas" (those calcified spires everywhere that show off the lake's iconic alien nature).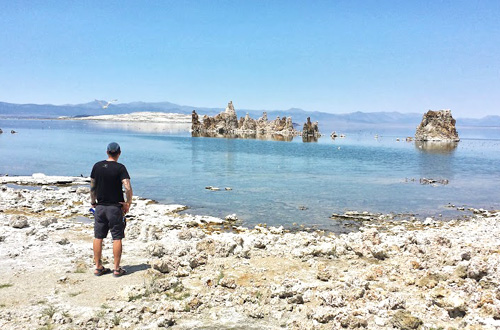 It was a quick, unplanned picnic, so we had to throw together a lunch based on the food we'd taken along for our glamping nights (nothing prepped, just a bunch of ingredients). It also required a hike to get to the tufas, so the meal had to be backpack-portable.
Mini roast beef croissant sandwiches were easy, and we could make them on the car before leaving. We had a bag of lettuce, which we used as our inspiration for a DIY salad-in-a-bag. I had a carton of delicious cherry tomatoes, some trail mix, and a chunk of cheese, so I dumped it all in the bag. Dressing was harder, and it would have been nice if we had some made ahead of time. We had olive oil, mustard and salt and pepper, and we just mixed it up in a baggie that we housed within the salad in a bag (so that if it leaked, it was only leaking onto the salad).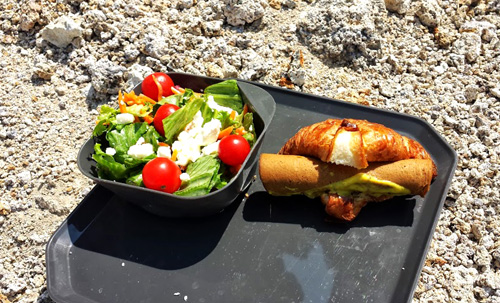 The sandwiches were, of course, delicious, but the salad was a surprising hit of freshness that I don't think about when I plan hiking food. Salad kits already exist, and would be great to purchase for a picnic, but they are even greater (and just as easy!) to make yourself. And after a long hike, that salad will hit the spot! Just make sure you're not keeping perishables un-refrigerated for too long.
DIY Salad in a Bag
Prep Time / Cook Time
/
Activity Guide
Car Camping, Day Trip, Picnic
Ingredients
1 head firm lettuce, chopped and cleaned
1 cup cherry tomatoes
1/2 cup trail mix
1/2 cup cheese, cubed or crumbled
1/2 cup pre-cooked chicken (optional)
1/4 cup pre-made salad dressing of your choice
Tools
Knife
Large zip-top bag
Small zip-top bag
Method
At home:
Place salad dressing in the small zip-top bag.
Place salad ingredients in the large zip-top bag. Put the salad dressing bag inside of the large bag.
On the trail:
Combine salad dressing with salad in the large bag and serve.