Our friend Adan (otherwise known as "Tallkan," if you want to follow his adventures on Instagram) is on his yearly traditional trip to June Lake right now. We're jealous. We haven't managed to plan our big family extravaganzas that far in advance in the last few years. We're gonna fix that this year, though. I've already made my first New Year's Resolution to have most of my 2016 plans on the calendar by January 1.

Adan is a pro fly fisherman (we'll be demanding lessons soon), and he doesn't just cook his trout- he smokes it. When I was growing up in Florida, I had a few lucky New Year's parties where my best friend would show up with her family's smoked mackerel. That was one of the most delicious things I've ever eaten. I haven't even had Adan's smoked trout, but I'm sure it's just as delicious.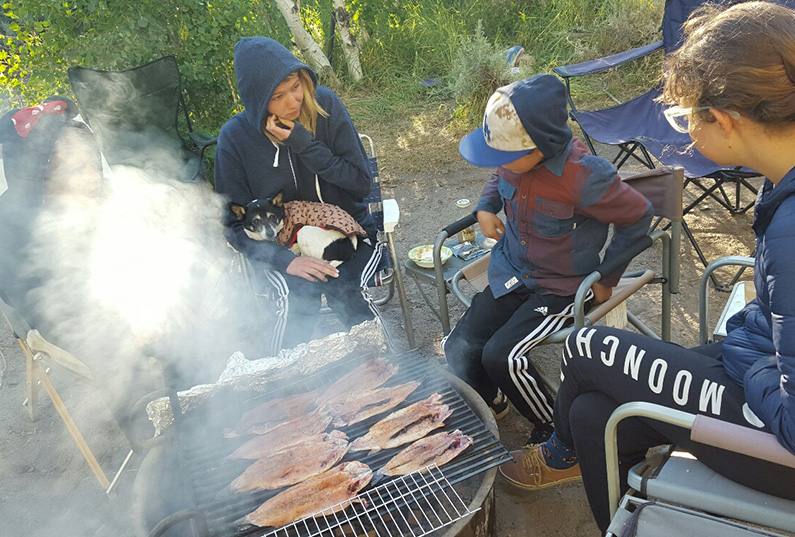 Where are you going to camp with your ENTIRE family and all your friends next year? Now's the time to start planning (especially since the planning process requires a BBQ!) Let us know so we can be your neighbors!
Campfire Smoked Trout
Prep Time / Cook Time
/
Activity Guide
Car Camping
Ingredients
Hardwood
Hardwood chips
Trout
Salt
Tools
Campfire
Foil
Knife
Large grill (if campfire ring doesnt't have one)
Method
Start a small fire, preferably using hard wood. Let it burn down to coals and spread thinly to reduce heat and encourage smoking.

Sprinkle in some chips of hard wood if desired but not a requirement.

Place grill 10-14 inches above coals.

Clean trout and butterfly them.

Sprinkle them with your choice of seasoning. A liberal amount of coarse sea salt is my choice but some of us like adding garlic, pepper and paprika.

Once coals cool down enough so that you can comfortably hold your hand over the grill indefinitely, it's time to smoke out. Place your butterflies skin side down directly on the grill, no oil needed.

Cover the entire grill with foil to keep it clean and insect free, and that's it. Poke at the coals or add a chip or two occasionally if it stops smoking. Cooking time will vary from 2-3 hours.