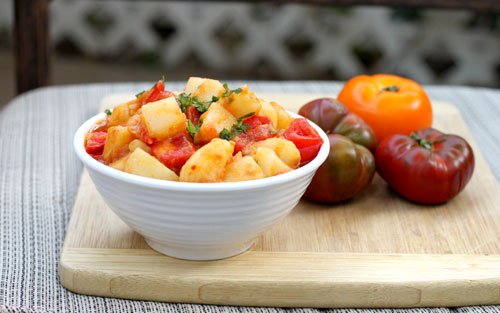 I always hated cooking. My mom would try to convince me that it was something I wanted to learn, and she would do this by comparing it to sewing. She compared everything to sewing, which I thought was funny, since I didn't want to learn to sew either. I avoided cooking almost totally until college when I actually had to fend for myself. Then I discovered The Food Network. I would watch Rachael Ray every afternoon when I got home from class. She would give me a fast easy recipe that I could handle, and I'd walk to the grocery store behind my apartment to get my daily ingredients. I would never stray from the exact recipe. I thought I'd never be able to. I thought that was something only "real" cooks could do.
I didn't branch out from the Food Network until last year when I got rid of cable and the TV to save the last of my money. Also, I was starting Dirty Gourmet, so I figured it was time to start browsing other inspirational food blogs. This is really when the experimentation began! These bloggers were making basic things like lasagna and stir-fry, but everything with a twist. Instead of your typical tomato sauce, there would be pumpkin and sage sauce. Instead of always throwing in garlic, peppers and onions, they'd focus on one flavor, like orange. I realized it was possible to experiment, because you could still look up recipes. You just add the twist yourself.
So, here's my twist on Spiced Tomato Gratin that was recently posted on 101 Cookbooks. Its an interesting spice combination that adds a lot of depth to the gratin, and I thought it would do the same for a potato salad. Plus, I like to refer to it as "Tater/Mater Salad." My version has no mayo or cream so you can take it outside for your Labor Day camping trip or barbecue.
I'm still working my way through the Internet to find more favorite blogs to follow, if you have any suggestions. By the way, I learned to sew last year too. That's not as hard as I thought either.
This is a great recipe to make if you're swimming in tomatoes right now like I am. I used both fresh and sun-dried tomatoes that I made in my car, since I couldn't decide which would be better. I still haven't decided. Also, I caramelized my onions because I loved that part of the original recipe, but fresh onions would probably make it feel cool and crunchy. This salad is a great addition to a picnic, or an interesting side dish at camp.
Spiced Tomato Potato Salad
Prep Time / Cook Time
/
Activity Guide
Bike Touring, Car Camping, Picnic
Ingredients
2 pounds small red potatoes
1 pound fresh tomatoes, or 1/2 cup sun-dried tomatoes
1 medium sweet onion, chopped
1/4 cup white vinegar
1/2 cup olive oil
2 teaspoons curry powder
1 teaspoon cumin
1/2 teaspoon red pepper flakes
1/2 teaspoon salt
1/4 teaspoon black pepper
Tools
Cutting board
Knife
Large bowl
Large pot
Skillet
Small bowl
Whisk
Method
Cover the potatoes with water in a large pot, and boil until fork-tender, about 20 minutes.
Meanwhile, add about 2 tablespoons of oil to the skillet on medium heat and add the onions. Cook down slowly until the onions are golden and tender, about 20 minutes.
Mix together the spices and vinegar in the large bowl. Then whisk in the olive oil. Pour this over the caramelized onions in the skillet and cook for about 1 minute more.
Strain and chop the potatoes into bite-sized chunks, and put them in the bowl. Add the tomatoes and onion mixture to the potatoes, and stir to combine.