While most people are getting excited about the arrival of Spring, I am dreading the onset of summer in Southern California. For me that means extreme heat and no more the playing in the desert.
This is prime time for Joshua Tree National Park and I have been trying to squeeze in as many weekends there as possible. After going there mostly for climbing in the past 9 years, I also had a luxurious weekend of non-climbing (read all about Emily's big horn sheep sighting here) and finally took some time to see both well known and lesser known sights in the park.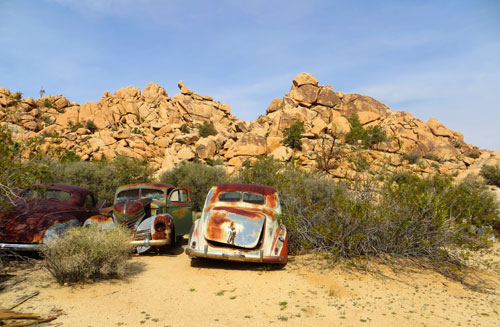 The first day we went on a two-hour guided walking tour of Keyes Ranch and learned all about Bill Keyes – a shady but very entrepreneurial character. On the second day, we hiked out to Samuelson's Rock – an off-the-beaten path destination that you can only get to with a little cross-country hiking. There you can see many of John Samuelson's quotes carved into rocks. It seems he had strong opinions, but maybe not the best grasp on grammar!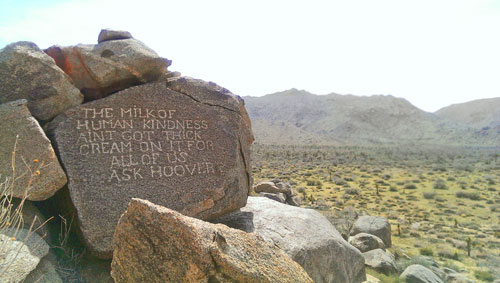 This Spicy Asian Penne pasta was really quick and easy – just what we wanted after a day of hiking around in the sun all day. I tend to crave Asian flavors but I wanted something a little heartier than rice or noodles so I decided to try penne pasta.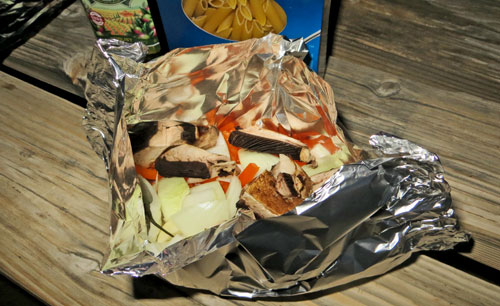 The portobello mushroom, sweet onion and bell pepper are no fuss vegetables that add a distinct flavor profile to the dish. Throw them into a foil pouch with sauce and put your campfire to work. The vegetables should be cooked and the sauce slightly thickened with some charring happening at the bottom of the pouch.
This dish has a lot of heat, so if you are a little more conservative with your spiciness, I recommend using less chili pepper. If you can't find fresh peppers, red chili flakes will probably work as well.
Spicy Asian Pasta
Prep Time / Cook Time
/
Activity Guide
Car Camping
Ingredients
1 portobello mushroom, quartered and sliced
1/2 medium sweet onion, sliced
2 garlic cloves, crushed
1 orange or red bell pepper, sliced
4 Thai bird or serrano chilis, sliced in half lengthwise
1/2 pound of penne pasta
2 tablespoons cilantro, chopped
olive oil
salt
1 tablespoon butter (optional)
1/2 cup soy sauce
1/4 cup ponzu sauce
2 tablespoons water
1 teaspoon sesame oil
Tools
Cutting board
Foil
Knife
Large pot
Measuring spoons
Strainer
Tongs
Method
Pull out 4 sheets of foil – to create two double wrapped foil packets. See foil packet tutorial. For the double wrapped saucy foil packets, you will follow the same instructions but:

have two layers of foil stacked on top of each other
join the two short ends (right/left), or ends that are perpendicular to you FIRST

Place sliced mushroom, onion and bell pepper along with garlic and chili evenly in the center of two foil packets. Add a dash of salt.
Tightly fold short ends to make sure no sauce can escape. Add 4-5 tablespoons of sauce + 1 tablespoon of water and a drizzle of olive oil in each foil packet.
Fold top of foil packet and place on top of grate. If you don't have a grate on your campfire, place the veggies on a bed of coals.
Once you hear the contents of your foil packets sizzling, use your tongs and gently shake the foil packets. The veggies should be cooked in 10-20 minutes depending on your campfire.
While you wait for the foil packets to work their magic, get your water boiling on the stove. Cook pasta according to package instructions. Drain water when the pasta is cooked and set the pasta aside.
When pasta and veggies are ready, open foil packets carefully and pour veggies and sauce into the pot. For a little extra flavor, add 1 tablespoon of butter and stir everything. Garnish with chopped cilantro and serve immediately. If you have any leftovers, this pasta is also great as a salad the next day.