I recently discovered that my local grocery store carries Korean BBQ sauce. I was so excited to see it there that I impulse bought it. It's a fairly ubiquitous sauce in Korean cuisine. A little sweet with some kick, it is typically used to marinate meat for the very popular Bulgolgi and can also be used for stir fry.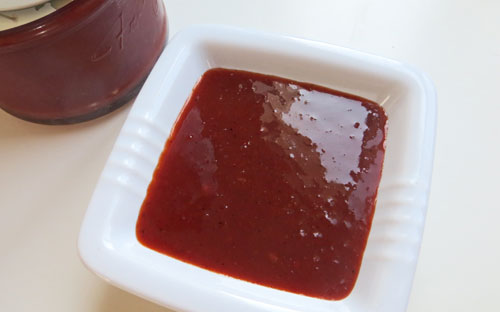 For the purists out there, I should specify that this Spicy Korean Lentil soup is not really Korean, but rather is influenced by the flavors of this cuisine.
This Spicy Korean Lentil soup has some real heat to it. It's a peppery-slow-heat-in-the-back-of-the-throat kinda kick that decreases as your meal progresses. One interesting anecdote: I served it with rice and after each bite of rice, the heat factor came back! It's like the rice cleansed our palates, and resensitized our taste buds to the spiciness.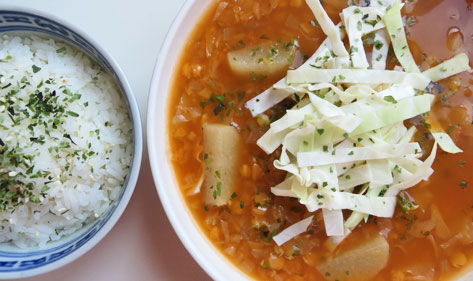 Spicy Korean Lentil Soup
Prep Time / Cook Time
/
Activity Guide
Bike Touring, Car Camping
Ingredients
½ cup red lentils
4 cups vegetable broth
½ onion, finely chopped
1 garlic clove, chopped
1/2 daikon, peeled and cut in 1/4 inch circles and then quartered
1 cup cabbage, chopped
3 tablespoons Hot & Spicy Korean BBQ sauce
1 tablespoon oil
Tools
Cutting board
Knife
Ladle
Small pot
Spoon
Method
Note: In case you can't find daikon, substitute with turnip instead.
Over medium heat add 1 tablespoon of oil, onions and Hot & Spicy Korean BBQ sauce to the pot. Stir until paste is evenly spread out and cook onions until they are translucent. Add garlic cook for 1 minute.
Add lentils, 2 tablespoons of Hot & Spicy Korean BBQ sauce and 4 cups of veggie broth. Bring contents to a boil. Add daikon to the pot. Lower heat to a gentle simmer and cover the pot.
When lentils and daikon are soft (about 10-15min), taste broth and adjust with more hot pepper paste Hot & Spicy Korean BBQ sauce if necessary. Stir in chopped cabbage. Lower heat to low and cover with lid for 2 mins.
Turn off heat and serve immediately.