My mom and I recently took the kids on a camping trip to Point Mugu State Park, just north of Malibu. It was my first time there, and it was definitely not my favorite campground. The sites were way too close together, and even though they charge $45 per night(!) there wasn't toilet paper in the bathrooms (that might sound like a silly complaint for camping, but we were excited about glamping). Our neighbors partied hard late into the night, and the winds were so strong we couldn't have a fire. Despite all this, we really had so much fun!
It was a super last minute trip, so we just grabbed some food we already had at home and didn't plan out our meals until the morning we left. Usually when we camp, I'll buy a bag of chips (or 3) to munch on. Since we didn't want to shop, I decided to make popcorn.
Popcorn in our house is an adult thing, since we make it on Friday nights after the kids go to bed, and we usually make it spicy (this Sriracha Garlic Popcorn is my favorite spicy version). But since I was looking for something to make the kids happy too, Sriracha-level spicy wasn't the best choice.
Back in May, Emily, Kat and I went to a restaurant called The Lark in Santa Barbara. Everything was delicious, but my favorite thing was the popcorn they brought out at the beginning of the meal. It was a little bit lemony, a tiny bit spicy, and very herby. It's been on my mind ever since. So, I decided to try to recreate it and it was a success.
I made it at camp and in order to keep the kids confined for a few minutes, we piled into the tent to eat it while we played with Mr. Potato Head.
Though it wasn't a relaxing trip at all (no trips are relaxing with toddler twins), it was so great to get out of our routine and let the kids get really dirty.
Feel free to vary the herbs, but I really love the mint in there so I suggest leaving that in.
P.S. A camping tip- if you pick wildflowers, make a bouquet and leave it for the next campers, you will make people very happy! Thank you to whoever left this pretty bouquet behind. It made me smile every time I looked at it.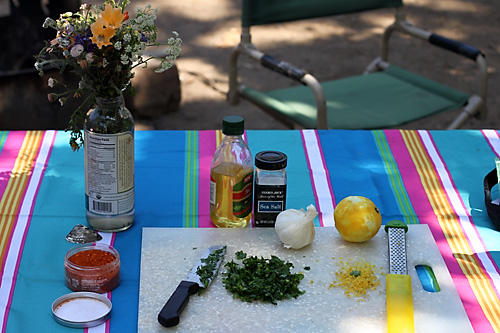 Spicy Lemon Herb Popcorn
Prep Time / Cook Time
/
Activity Guide
Bike Touring, Car Camping
Ingredients
4 tablespoons olive oil
1/2 cup raw popcorn kernels
2 cloves garlic
1/2 teaspoon red chile flakes
zest of one lemon
1 teaspoon minced fresh mint
1 tablespoon minced fresh basil
1 teaspoon minced fresh thyme
salt to taste
Tools
Cutting board
Knife
Large bowl
Spoon
Large Pot with a Lid
Method
Heat one tablespoon of the olive oil and a couple popcorn kernels over medium heat. When the kernels pop, add the remaining popcorn and partially cover the pot (you want to allow the steam to excape, but not the popcorn). Once you hear the kernels starting to pop, start shaking the covered pot. Keep shaking until the popping slows down significantly. Remove from heat and keep the pot covered until the popping stops. Place the popcorn in a large bowl.
Heat the remaining olive oil in the pot and saute the garlic and chile flakes in it, just for a few seconds. Toss the popcorn with the garlic chile oil, lemon zest, herbs and salt.