I've been frustrated lately with the recipes I've been trying. Like just about everyone I know, I look at lots of recipes online and neglect my cookbooks. There are great things about finding recipes online, but for me the biggest appeal is that I can find recipes from wherever I am as long as I have a phone, computer or my tablet. This is super convenient, but it's just not the same as using a cookbook. There are undoubtedly many, many wonderful recipes on the internet, but there are also many not so great ones. When someone writes a cookbook, it requires more effort (I'm definitely not saying that all cookbook recipes are good). I just think that the likelihood of a recipe turning out well is greater if you use a cookbook versus some random recipe you found on the internet.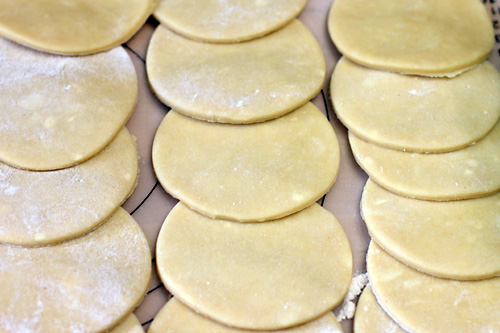 So with this in mind, I've been trying to start cooking from my cookbooks again. One recipe that I recently made was Tessa Kiros's Cheese Pies from her book Apples for Jam. They were so good, and perfect for taking on a picnic or on a car camping trip. They hold together really nicely, which is something I haven't had any luck with when I've made other hand pie recipes. I think this recipe is super adaptable as well- I could see a potato based filling, or even other types of cheese fillings working really well.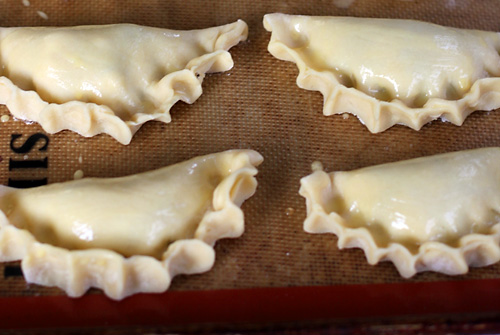 Recipe adapted from Tessa Kiros's Cheese Pies from her book Apples for Jam
.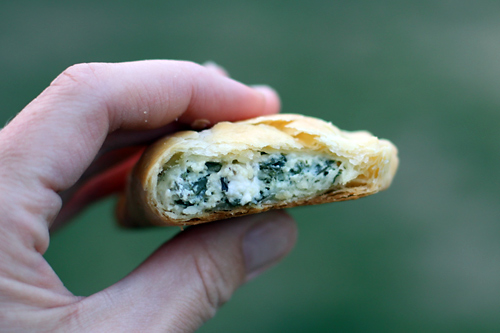 Spinach & Cheese Hand Pies
Prep Time / Cook Time
/
Ingredients
2 1/2 cups all-purpose flour
1/2 teaspoon salt
1 3/4 sticks butter, cut into small pieces
3 eggs
3 tablespoons plus 1 teaspoon milk
2 teaspoons vinegar
a few tablespoons ice water (you may or may not need this)
1 tablespoon olive oil
10 ounces spinach, roughly chopped
3/4 cup crumbled feta
1/2 cup ricotta
1/4 cup grated extra-sharp cheddar
a big pinch of freshly ground pepper
Tools
Cutting board
Knife
Large bowl
Skillet
Small bowl
Spoon
Food Processor or Pastry Blender
Baking sheets
Pastry brush
3 or 4 inch biscuit cutter or a drinking glass
Method
Combine the flour, salt and butter in the bowl of a food processor fitted with a steel blade and pulse until the butter is the size of peas. Add one of the eggs, 3 tablespoons of the milk, and vinegar and pulse until the dough becomes a ball. If the dough doesn't come together, add ice water a tablespoon at a time until you have a ball. (If you don't have a food processor, you can make the dough in a bowl. Just use a pastry blender to incorporate the butter into the flour and then stir in the remaining ingredients.) Flatten the ball of dough and wrap in plastic wrap. Refrigerate for about an hour.
Meanwhile, heat the oil in a large skillet and add the spinach. Briefly saute the spinach just until it wilts. Remove from heat and set aside.
In a large bowl, combine the cheeses, one egg, pepper and sauteed spinach.
Combine the remaining egg and milk in a small bowl and beat to combine.
Preheat the oven to 375° F. Remove the dough from the refrigerator and roll it on a well-floured surface until it's about 1/8 inch thick. Cut out about 20 circles with a biscuit cutter or drinking glass. You'll have to cut circles and then re-roll the scraps in order to use all the dough. Brush the edges of half of each circle with a little of the glaze mixture. Fill each circle with about a heaping teaspoon of filling mixture (you should use all the filling). Fold the dough over to form half circles, and stretch it enough so that you can close the circles securely. Use your thumb and forefinger to pinch the dough closed as pictured above.
Place the pies on a baking sheet and brush lightly with the remaining glaze. Bake for about 15 to 20 minutes, or until the pastry is golden brown and the filling is heated through. Cool before eating.