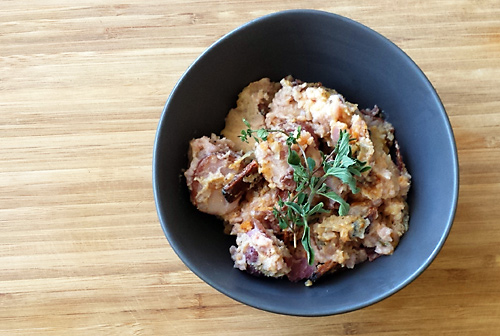 It's time to plant my summer garden now. I'm probably already too late, but I just couldn't part with my big, beautiful Red Giant Mustard that was growing throughout the space over the winter. It's time for spring cleaning now, though, and the garden is always a motivating place to start. I decided to have Aimee help me pickle it, so we planned an evening to get together, and thought dinner would be nice as a picnic.
Cleaning out your garden is a perfect time to also clean out your fridge. And cleaning out your fridge usually means making way too much food, so a picnic is a great way to share. We received spring onions and lots of little pink potatoes in our Farm Fresh To You box the past few weeks, so I couldn't help but make a delicious, grandma-style potato salad. We usually avoid mayonnaise-based salads since we're always focused on perishability, but we recently discovered egg-free Just Mayo. It works for our vegan family members, and we can worry less about spoilage. I made what looked like a huge vat of potato salad, but it was gone by the end of the evening.
Our picnic was wonderful. We walked down to the park closest to Aimee's house, and family members showed up as they got off work or got sick of playing basketball. Babies and dogs ate straight from the serving bowls, a bottle of Martinelli's Sparkling Cider exploded all over our (no longer) crispy butternut squash taquitos, and we had no regrets. We're going to do this much more often.
Spring Onion and Bacon Potato Salad
Prep Time / Cook Time
/
Activity Guide
Car Camping, Picnic
Ingredients
3 pounds small potatoes
3/4 cup mayonnaise (preferable egg-free)
1/4 cup yellow mustard
1/4 cup dill pickles, diced
2-4 spring onions (depending on size), sliced
6 slices bacon, precooked and crumbled
salt and pepper, to taste
Tools
Large pot
Mixing spoon
Small bowl
Spoon
Strainer
2 knives
Method
Place whole small potatoes in a big pot of salted water that covers them by about 1 inch. Bring to a boil.
Turn heat to medium-low and simmer for about 20 minutes, until tender all the way through.
Strain potatoes, reserving about 1 cup of cooking liquid. Place potatoes in a big mixing bowl.
Using two knives, cut up the potatoes into big chunks using a crisscross cutting motion.
Add mayonnaise, mustard, chopped pickles and onions to the potatoes. Mix well, but softly, trying not to break the potatoes up much more.
Add more mayonnaise or mustard as needed to create desired consistency. If consistency gets too thick, add back in a little of the cooking liquid to loosen it up.
Fold in bacon crumbles. Season to taste with salt and pepper. Eat warm, cold, or somewhere in between.