It's time I come clean about something because I think I'm not the only one who has this problem. I'm addicted to popcorn. When I go to the movies, I'm most excited about getting popcorn. When I go to a hockey game at Staples Center, I go for the bottomless bucket of popcorn and usually average one per period. Yes, I am the popcorn version of the cookie monster on Sesame Street.
This Sriracha Garlic Popcorn is buttery with small flavorful garlic crunchies and finishes with a little heat on the tongue. I didn't think it was possible, but with a little refined technique, I believe that this Sriracha Garlic Popcorn surpasses movie popcorn. Once you know how to make popcorn at home (popcorn machine not required), the flavor combinations are endless and you can become your own Popcornopolis!
My brother is now a popcorn monster too and I actually had to make the popcorn three times before I was able to photograph it! I haven't experimented with sweet popcorn flavors yet, but would love to know if you have. What yummy flavor combinations have you tried?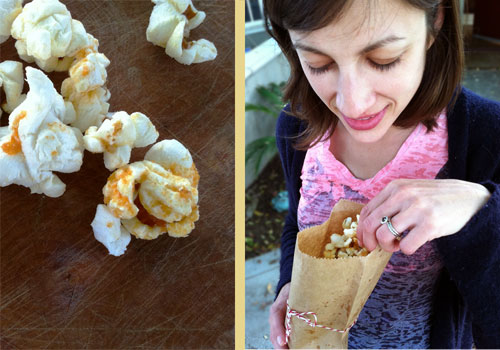 Sriracha Garlic Popcorn
Prep Time / Cook Time
/
Activity Guide
Car Camping
Ingredients
1/2 cup popcorn kernels
4 tablespoons salted butter, cubed
3 garlic cloves, minced
1/2 tablespoon vegetable oil
1/2 teaspoon Sriracha hot sauce
salt, to taste
Tools
Cutting board
Knife
Large bowl
Skillet
Spoon
Large heavy pot with lid
2 oven mitts
Method
Put pot on stove at medium high heat. Add oil and 3 kernels and cover. Keep close watch until the kernels pop. This should take no more than a couple of minutes.
Add the remaining kernels and cover pot with lid.
Put oven mitts on and start shaking the pot back and forth, while still keeping it on the flame. Do this continually until you start to hear the kernels pop. There will be a flurry of popping during a 30 second period or so.
When the popping has slowed down and only a few are still popping, turn off heat and set the lid aside. Removing lid is important! If you don't, the heat inside the pot will create moisture making the popcorn less crunchy.
Transfer the popcorn to a large bowl.
In small skillet, put half of butter in at medium to medium-low heat with the minced garlic. The butter should be gently sizzling/bubbling but not becoming brown. The goal here is to get the garlic nice and crunchy.
Add Sriracha and remaining butter when garlic is golden brown. Turn off heat as soon as butter is melted. Stir mixture to make sure Sriracha is evenly distributed.
Pour Sriracha garlic butter over popcorn. Add a generous pinch of salt gently mix using your hands or spoon. Serve and enjoy immediately.